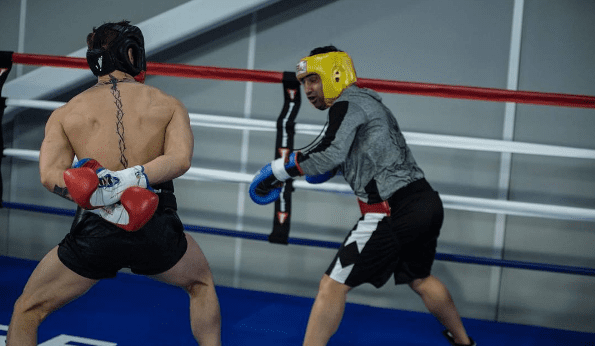 Conor McGregor wanted to face former sparring partner Paulie Malignaggi in a mixed martial arts bouts, according to his coach John Kavanagh.
Speaking in Dublin on Wednesday at the launch of the Original Penguin AW17 collection, Kavanagh said that McGregor was keen to have some closure to the back-and-forth which occurred between the two when Malignaggi briefly joined McGregor's camp ahead of last month's boxing match with Floyd Mayweather.
"Conor wanted that," Kavanagh said to host Mike Sheridan when asked about the possibility of facing Malignaggi in future (as reported by MMAFighting).
"He said to me, 'Let's get him in the Octagon', and I said that there was no way that he would fight in MMA," Kavanagh said. "You've got to be able to prove yourself in the arena. When Conor wanted a boxing license they could look at the Diaz 2 fight where there was more or less 25 minutes of boxing. Why would Paulie go to MMA? He'd never go to MMA.
"Now, Conor could tweet now and say 'I'm fighting Paulie Malignaggi', and I guess I would be wrong then."
The dispute between McGregor and Malignaggi stems from the two sparring sessions they had, as well as the series of interviews Malignaggi undertook while in his role as sparring partner.
"It wasn't just general stuff explaining how he was part of the camp. He had to go back to New York to do some promotion for the Andre Ward fight, and straightaway he was disrespecting (McGregor's) power. He was saying this and that, and I was thinking, 'What are you doing, you have to come back here and spar Conor in seven days?
"This guy is a former world champion, he should know that you should keep your mouth shut until the fight is over – then write a book, then do fifty interviews," he said.
"That would have been no problem, we would have no issue with that. But you can't go the next day and the day after that and the day after that, and start giving away ideas we have.
"That's what threw me off, he wasn't acting like a professional."
Comments
comments