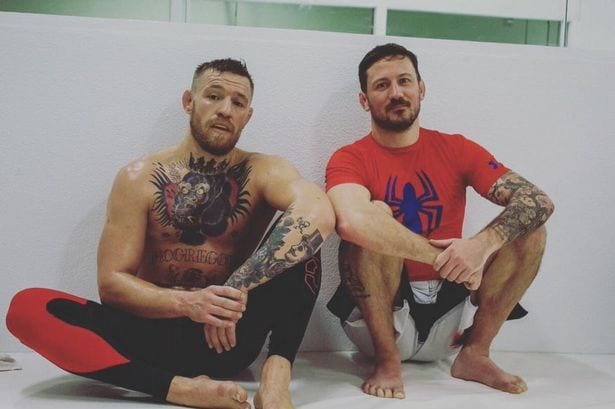 John Kavanagh found out just like everyone else that Khabib Nurmagomedov and Tony Ferguson would be fighting in April. Just like everyone else, he's waiting to find out what that means for Conor McGregor's lightweight champion status.
While early press releases have the Nurmagomedov/Ferguson contest as being for Ferguson's interim title, previous comments made by UFC president Dana White has people wondering if the UFC won't elect to strip McGregor of his championship belt.
According to Kavanagh, it won't really matter if the UFC do indeed do such a thing. After all, he says, we all know who the real champion is.
"I'm kind of hearing this at the same time as everybody else and seeing this the same time as everybody else," Kavanagh said, speaking on a Q&A on the Wimp2Warrior Facebook page. "I think regardless of what way it's sold, this fight, I think it's still going to be known who the champion is. I know that's going to upset a lot of people, but there we go. That's my opinion on it.
"If it happens that [Khabib and Ferguson] fight each other, and if it happens that it's for the belt, they're both going to bed at night think to themselves, 'I've got to beat Conor to be really seen as the champ.' That's how I see it."
At the moment, 155-pounds has a trifecta of contests that all MMA fans want to see. McGregor vs. Nurmagomedov, McGregor vs. Ferguson and Ferguson vs. Nurmagomedov. As an analyst, Kavanagh believes the Ferguson-Nurmagomedov fight will look a certain way — if it even happens at all.
"They're both grapplers for starters; neither has really high-level striking, so it's going to be a grappling match," Kavanagh said. "I think a lot of it will be played with Khabib on top. I think he wins a decision. I think it goes the five rounds, I think it's a decision Khabib. I do think there's a really high risk of it not happening. It's been scheduled twice, and it's not happened twice. It's very impressive what Khabib can do when he is fighting – just that pace he has and the relentless pressure. But it does require you to train in a certain way.
"I would see a high likelihood of one of them pulling out before the fight happens. But let's assume both get through the training camps, both are healthy and the fight happens and it's five rounds. I think Tony will have his moments in the first round or two. He'll get close with some guillotines maybe, or some triangles. But I think Khabib powers out of them and wears him down. I don't think he really has the stopping power to really finish him."
So, with the winner holding a gold title, the man on everyone's minds will be McGregor. Should McGregor return, he'll face the winner for what will rule out any complications as to who the champion is. Not that Kavanagh sees much complication in the conversation.
"You look at the way Conor won that belt, he didn't decision someone or edge out someone," Kavanagh said. "In that fight [with Eddie Alvarez], no one can look at that fight and say it wasn't completely one-sided. It wasn't in any way a close fight. Conor won that belt with an exclamation mark, with a statement. He is the champion. He is the lightweight champion, and that's that."
Comments
comments