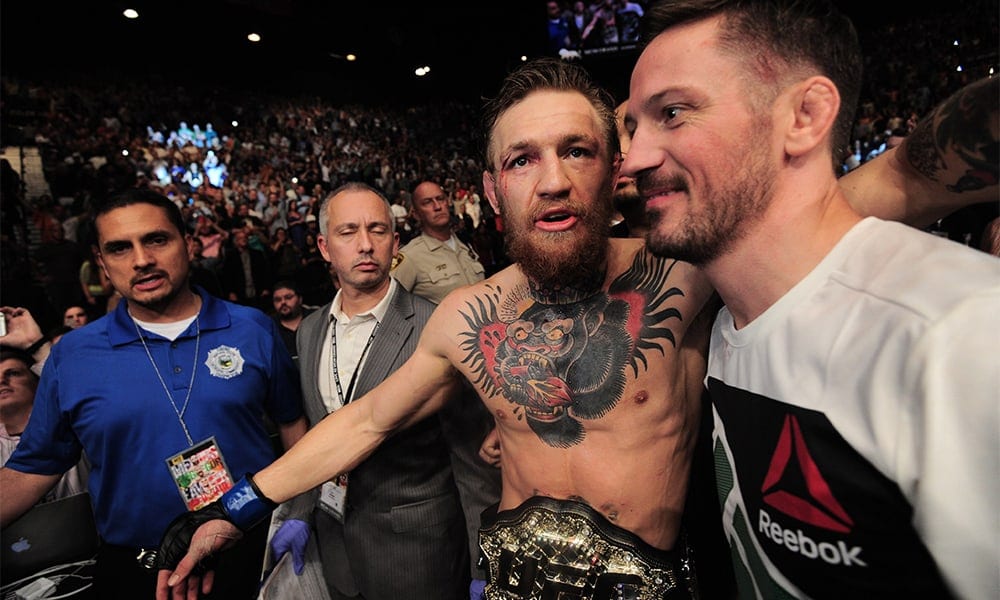 SBG Ireland head coach John Kavanagh has predicted that Conor McGregor will hit the ground running when he makes his return next year from the broken leg he suffered this past summer.
Speaking with Australian outlet Submission Radio, Kavanagh provided an update on when he expects McGregor to return to full-time training after breaking both his tibia and fibula just above his left ankle in July. McGregor has suggested that it will likely be the middle of next year before he sets foot on Octagon canvas once more, but first Kavanagh says that he will be put through his paces on the mats at SBG.
"He is coming back to Ireland and will be back on the mats with me in the next couple of weeks," Kavanagh said. "He is doing a lot of strength training at the moment, the guy is jacked I think he will be coming back as a middleweight!
"But we will start off with combat sports training again and drills, I joked to him and said we should start off with techniques but he said he wanted to come back with five-by-five.
"He is enthusiastic, excited and upbeat to come back in 2022 and although I am not sure when he will come back I know he will be back."
As for who McGregor might face upon his return, that will be revealed in time. He has suggested on social media that he will be targeting whoever has the belt upon his return, and with Dustin Poirier set to challenge Charles Oliveira next month for the 155-pounds title it looks as if another fight with the Louisiana native could be on the cards.
And Kavanagh explained further what goes into the strategising for taking on one fighter multiple times.
"You make adjustments each time and you're trying to improve and opponents can change," he said.
"As long as the focus is on, like I'd always say to Conor and all my guys, the goal is that if you're doing a three-month training block is that at the end of the three months you could beat your former self. That's really all you can do is to try to improve yourself."
Comments
comments