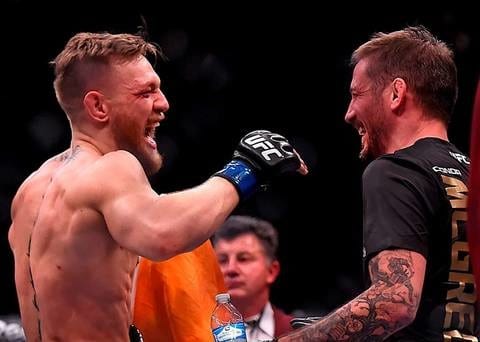 Conor McGregor's coach John Kavanagh predicts that his fighter will remove himself from the limelight once he decides to step away from combat sports, though he says that day is a long, long way away.
McGregor has the mixed martial arts and boxing worlds captivated as to his next move and, with the proposed bout with Floyd Mayweather edging ever nearer, all eyes are on exactly what lies in the Irishman's fighting future. Though, as Kavanagh says, McGregor isn't even close to being done just yet.
"Like any sport there's a sell by date", Kavanagh said to the Irish Mirror. "But Conor is 28, he's a baby in the sport. I look at Bernard Hopkins who's 50, winning world title fights so Conor isn't going anywhere soon. I predict once he's done in the sport he will disappear. People think he likes the limelight, he doesn't. He just likes fighting and promoting fights."
Indeed, there is no one better at generating intrigue than McGregor. His recent appearance in Madison Square Garden to witness the professional boxing debut of his friend Michael Conlan saw an array of boxing media press McGregor for details on the 'Billion Dollar Fight' with Floyd Mayweather.
"Watch me take over boxing, trust me on that", McGregor said to ESPN's Dan Rafael at ringside following Conlan's bout. "No one in this boxing game knows what's coming. Trust me on that.
"Look me in the eyes, 28 years of age, confident as a motherfucker, long, rangy, dangerous with every hand. Trust me, I'm going to stop Floyd, and you're all going to eat your words. The whole world is going to eat their words."
If there is one thing that McGregor likes it is options and with Mayweather looming, as well as several challenges across numerous weight classes in the UFC, that is one thing that he has in spades.
Kavanagh offered one more: "Who knows, maybe he'll go to Hollywood and become the next Schwarzenegger."
Comments
comments