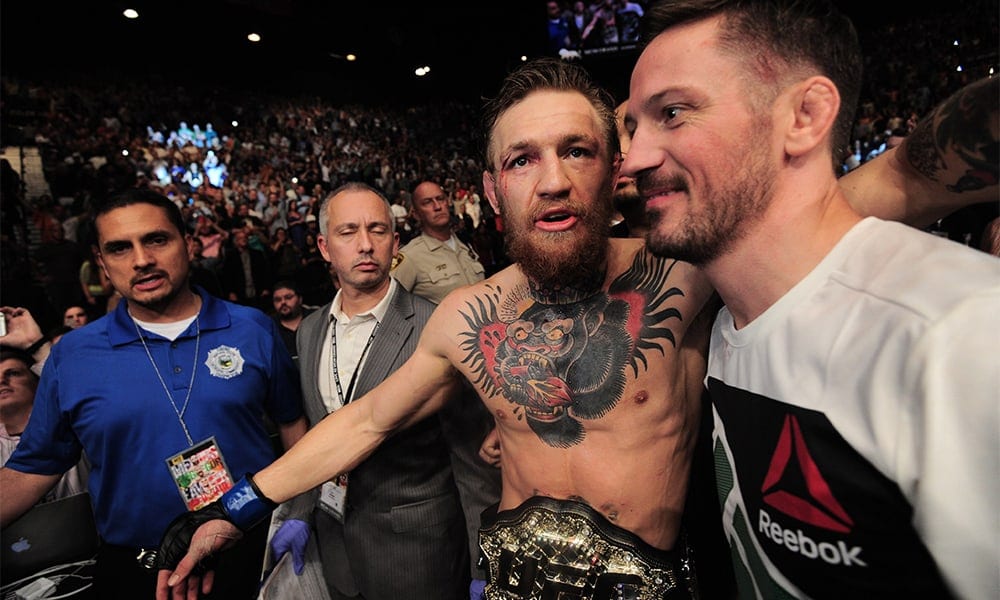 The April 7th meeting between interim UFC lightweight champion Tony Ferguson and top contender Khabib Nurmagomedov will go a long way to determining Conor McGregor's next move in the octagon. The two will duel on April 7th in New York in the main event of UFC 223 in what by any measure is a fascinating contest.
John Kavanagh, who will be present at the event to corner Artem Lobov in his bout opposite Alex Caceres, will be a very interested spectator for the main event but in a recent interview with The Express he says that if indeed Ferguson emerges the victor 'El Cucuy' will try anything to get any potential bout with McGregor to the ground at the earliest opportunity.
"I'd be very, very surprised if Tony would engage in that," Kavanagh said when asked if he sees Ferguson contemplate standing with the Irishman.
"We saw in his last fight that he would throw himself on the ground for Iminari rolling leg locks, he'll do anything necessary to get it to the ground. Even Conor's most ardent hater would have to say if you're looking in [Ferguson's] last two or three fights, he does get hit a lot. His stand up is not Nate Diaz's."
That said, Kavanagh did reserve praise for Ferguson — notably his durability.
"He does have a great chin, I'll give him that," Kavanagh elaborated. "He can take a hiding."
Ferguson is currently riding a ten fight win streak in the UFC's lightweight division, a run which has taken him to the brink of a shot at the world title with the majority of his victories — five of his last seven — coming by way of submission. While certainly wary of the threat that Ferguson can pose on the ground, Kavanagh believes that McGregor is the far superior striker.
"He would not have the technique or come close to the technique that Conor would have on the feet," Kavanagh said. "So I can see him trying out the range early in the fight, but after a very, very short time realising he's out of his depth and then he'll try those Iminari leg locks. He will try anything to get it to the ground."
Comments
comments