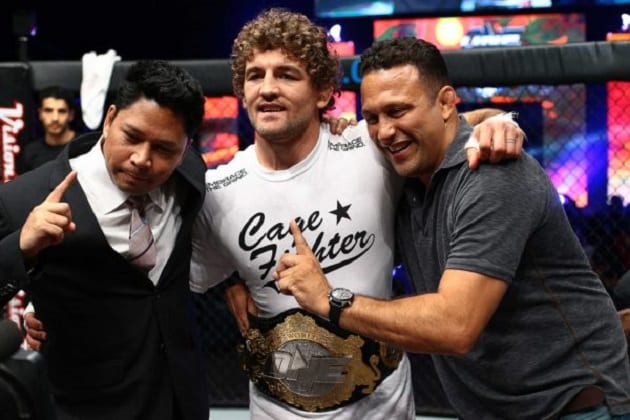 There is a very realistic chance that the best welterweight fighter in the world has never set foot on the canvas of a UFC octagon.
Ben Askren, undefeated at 18-0-1 in his professional career, announced his retirement late last year with a first round TKO of Shinya Aoki at ONE 63 but is already heeding calls to return to a 170-pound division in which, seemingly, he had no equal.
Explaining to Ariel Helwani of MMAFighting in September of his decision to walk away from the sport at the age of 33, Askren said it was because mixed martial artists sometimes have a tendency to overstay their welcome.
"I mean, you think about who retires during their prime, the number of athletes who do that in any sport is very smalrl. And obviously a sport like golf, where you see Tiger Woods fall off — well, there's not really too much damage he could take from that, right? Although when you watch him and he sucks, and you're like, 'God, he used to be so good, but you suck now,' it's kind of disconcerting as a fan, right?
"But then you look at someone like Muhammad Ali, who was literally my favorite athlete of all-time. The punishment he took from sticking around too long past his prime, man, I would have to say — we can't prove it, but I'd have to say we could guess it led to a lot of the problems that he had later in his life."
Despite these statements Askren left the door somewhat ajar for a comeback, saying that "there would be one, and only one, way I would ever come back for another fight: if it was for the No. 1 spot in the world."
The problem with this statement is the second caveat attached, Askren and current UFC welterweight champion Tyron Woodley are close friends, which essentially puts the kibosh on plans to move to what most consider to be the world's premiere mixed martial arts organisation.
Another possible re-entry point for Askren could potentially be a return to the Bellator division he ruled as champion between 2010 and 2013 where Rory MacDonald — who holds a win over UFC champ Woodley — would be waiting in the wings.
Largest post the @UFCONFOX page has had in a while. My price just doubled. https://t.co/jrDsLXU4J3

— Ben Askren (@Benaskren) February 16, 2018
Speaking on his The Joe Rogan Experience podcast (as noted by Bloody Elbow), Rogan revealed that he had previously petitioned UFC president Dana White to sign Askren and it appeared a deal was close around the time of his Bellator departure in 2013, but it ultimately fell apart.
Should the negotiations happen again, Rogan hopes that White would be able to persuade the fighter to come out of retirement.
"I've talked to [White] about [signing Askren] in the past," Rogan said. "I think if Ben and him sat down and I could be there, maybe I could help. I'd do that. I'd 100 percent be willing to do that.
"For me, it's a no-brainer," Rogan said. "You want to see the best versus the best, and he's been able to do weird sh-t to people. … He's f—king super articulate, super smart, f—king great guy.
"I don't know jack sh-t about promotion," Rogan said. "I could be wrong. I might just be such a purist that I want the best to fight the best so much that I don't give a f—k what it looks like."
Comments
comments