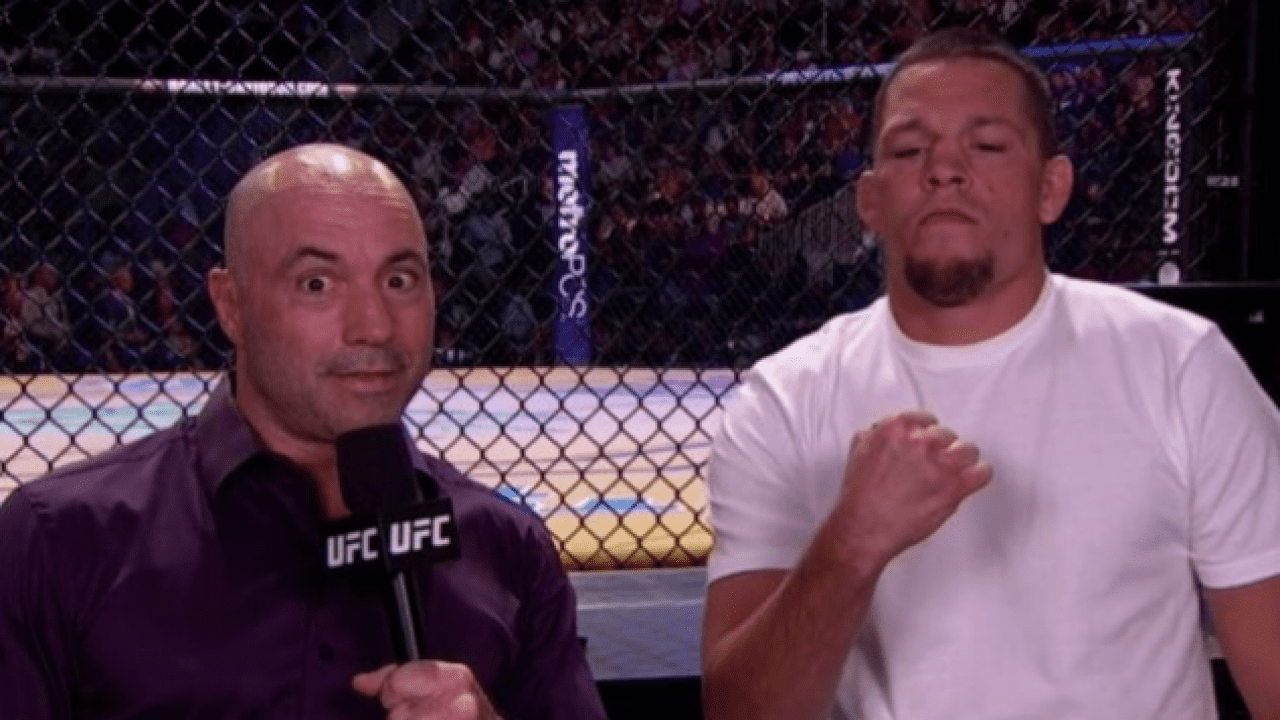 Joe Rogan might not have been at UFC 242 when the fight between Nate Diaz and Jorge Masvidal was announced, but he was apparently suitably excited when he saw the news.
UFC president Dana White revealed on Saturday afternoon he intended to have Diaz vs. Masvidal headline the upcoming UFC 244 in November at Madison Square Garden. While there won't be a title on the line, the fight will be five rounds and will have an unofficial 'Baddest MotherFucker' belt awarded to the winner.
Rogan, who didn't attend the UFC's show in Abu Dhabi, hosted one of his old Fight Companion podcasts, where he told his guests how thrilled he was the two competitors were set to throw down.
"When I saw it on my Instagram feed this morning I threw my arms up like somebody got knocked out. 'Yes!'" Rogan said.
For a moment, it had seemed as if the fight — which made all the sense in the world when Diaz called for it last month — was off the table after White revealed he wasn't considering Diaz in his future plans.
According to Rogan, those comments were likely just a bit of gamesmanship.
"It's worth money," Rogan said. "I had said that I think Nate Diaz is one of the biggest superstars in the game, right up there with everybody. I guess there was some negotiations or something because Dana White refuted it. He goes, 'Well I don't think Nate Diaz is in our long term plans. Nate fights once every three years.' I'm like, don't say that. I'm sure [it was negotiations] and to let Nate know that look, we've got other plans. There's other shit that we're doing."
Instead, the UFC couldn't finalise a deal to put Kamaru Usman vs. Colby Covington at the top of the bill, and so instead went with Diaz and Masvidal. And while Rogan's not making predictions, he believes Masvidal is absolutely on a tear and has shown he's able to defeat anybody on his night.
"That guy's so good. He's so good and he's so clever," Rogan said. "That's one of the best things to say about Masvidal. The thing is people don't necessarily associate him with knockout power for some reason, but the guy knocked out Yves Edwards with a head kick, he knocked out Darren Till, Donald Cerrone, he knocked out Ben Askren and put him into another dimension with a flying knee, world-record fastest knockout. It's weird that people don't associate Masvidal with a knockout artist. He doesn't necessarily have the most power, but he's so good."
Comments
comments