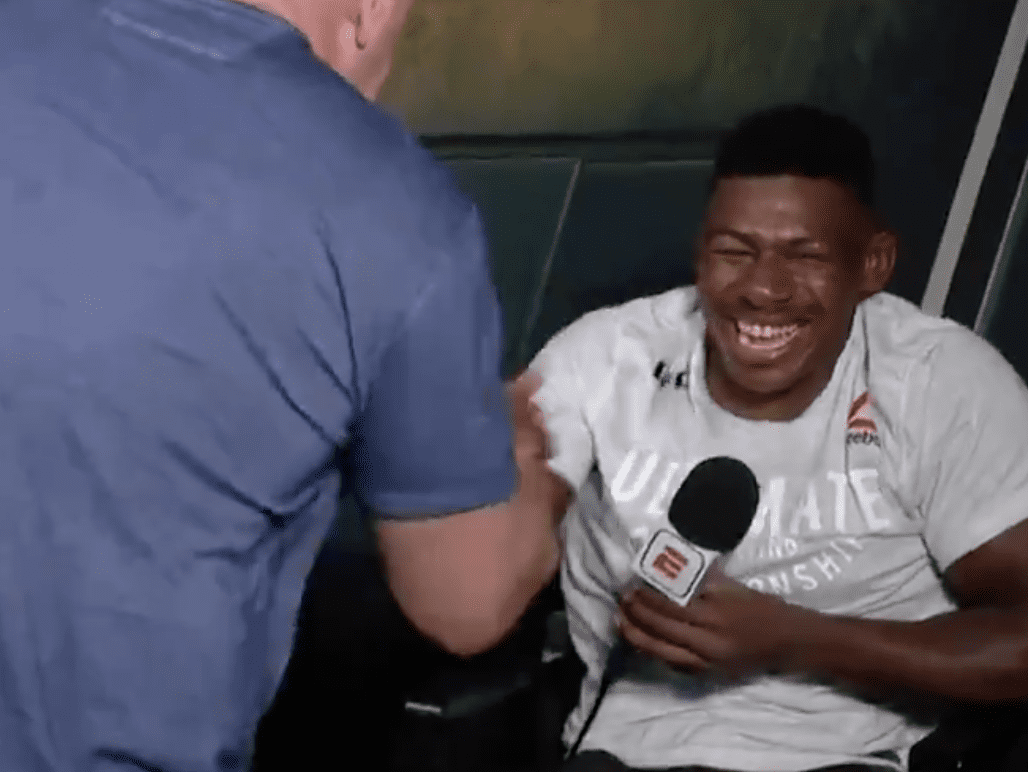 It's very possible Joaquin Buckley changed his life in the early hours of Sunday morning in Abu Dhabi.
The UFC middleweight landed an absolute pearler of a spinning back kick to knockout Impa Kasanganay in their preliminary fight at UFC Fight Island 5, and within a matter of moments the entire sequence was going viral across the internet.
Indeed, so widespread did the clip go, it became the most shared on official UFC channels in history.
THE MOST UNBELIEVABLE KO IN UFC HISTORY 🤯 #UFCFightIsland5 pic.twitter.com/O7BOJg8h9c

— UFC (@ufc) October 10, 2020
If the strike itself wasn't enough to take home, Buckley was given a $50,000 performance bonus — one awarded to him in person by UFC president in a segment seen on the live broadcast.
"Aw naw, you gonna make me cry," Buckley said as the boss approached.
"I always talk about when you're on a card, right?" White said. "How do you stand out? My phone is blowing up. Kevin Iole fucked hit me up for a quote because he's already doing a story on you. Everybody is saying, 'Just give him $200,000 tonight. Give him every bonus.' Nobody has ever seen anything like that. Sean Shelby texted me and said, 'Write him a check right now for $50,000 and go give it to him before he gets out of there.
"Incredible."
"Aw naw, you gonna make me cry."

See @Newmansa94's wholesome reaction when greeted backstage by @danawhite after his viral KO 😌 #UFCFightIsland5 pic.twitter.com/MCqhsIZWlb

— ESPN MMA (@espnmma) October 11, 2020
–
Comments
comments