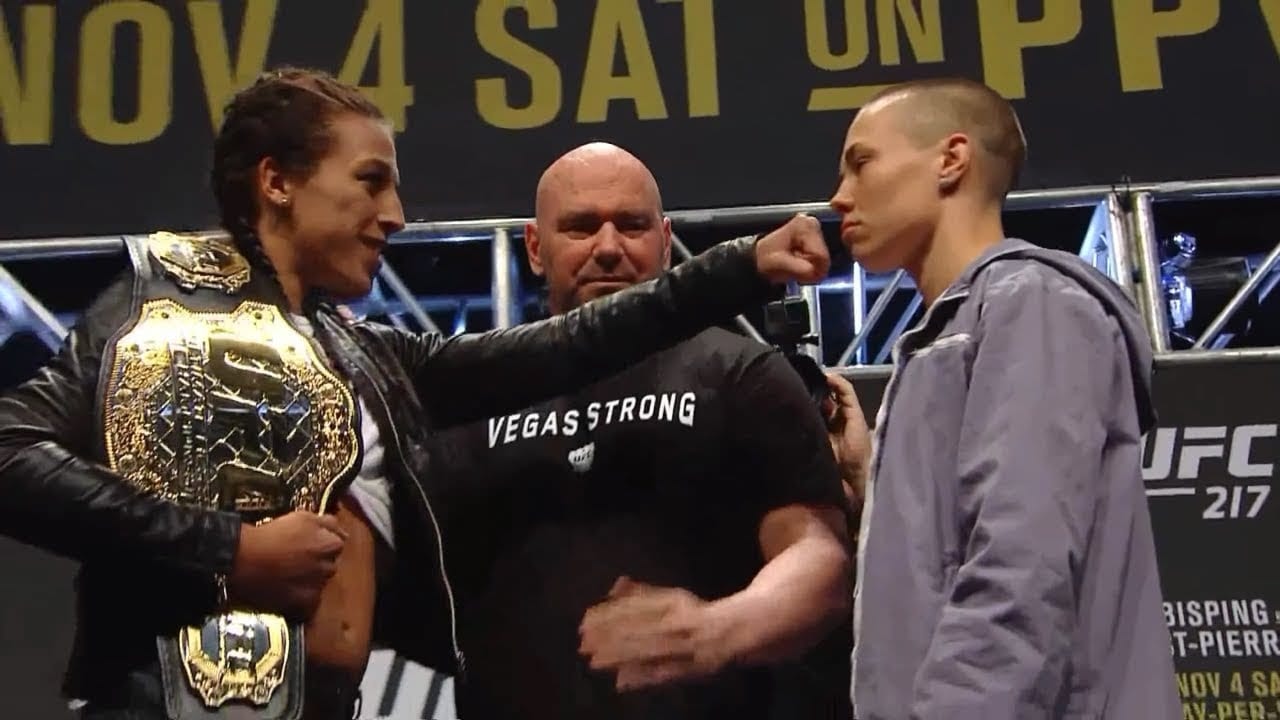 Joanna Jedrzejczyk has become known for various traits during her championship reign. Showing mercy isn't one of them.
The polish strawweight has dismantled every opponent she's faced thus far in her career, with few ever really managing to get her into trouble. And, as is the way with many dominant champions, that tendency extends out of the cage to the pre-fight words.
Today on the UFC 217 call, Jedrzejczyk once again showed her tenacity. With much having been made of her young opponent Rose Namajunas' history of mental health struggles, as well as a supposed weakness of withering in big fights, the champion repeatedly made mention of her counterpart's lacking.
When Namajunas spoke on the call about feeling in a stronger place mentally, and a new ability to cope under pressure, Jedrzejczyk struck quickly, refuting the claims.
"I've gotten better mentally, I've overcome some demons in my past," Namajunas said. "Every day I wake up, I'm a fucking champion. That's just my mindset all the time. That's something that this fight could be a great PSA announcement for: mental health awareness. I think I'm a champion for that, and overcoming a lot of demons in my past. I'm so much stronger from it, and I'm going to continue to be stronger."
"Hey listen to the champ, you didn't want to do media,"Jedrzejczyk answered. "You didn't want to do extra media. How you wanna be a champion and be with all the [duties]? You know what? You are not stronger mentally. You are mentally unstable. You are broken already, and I will break you in the fight."
For her part, Namajunas stayed firm. When asked if she felt Jedrzejczyk had crossed the line, Namajunas agreed that the champion's comments weren't something she felt particularly comfortable with, before re-affirming her past battles as bringing her to where she is today.
"I'm not sure if its maybe a cultural difference or something like that, but for me it's not something thats taken likely," Namajunas said. "My family has been torn apart. My dad died because he has schizophrenia […] and it's something my entire family has been fighting against since I can remember.
"This fight means a lot to me, it's not just about the belt. it's more than that, I just want to inspire other people to fucking do whatever the fuck you wanna do. Do what makes you happy, and be a good person, and you can overcome anything.
"I just want to try and make this world a better place, and somehow use my gifts of fucking martial arts. I'm great at this shit, this is what I was born to do. I might be crazy, I'm dangerous too."
Comments
comments