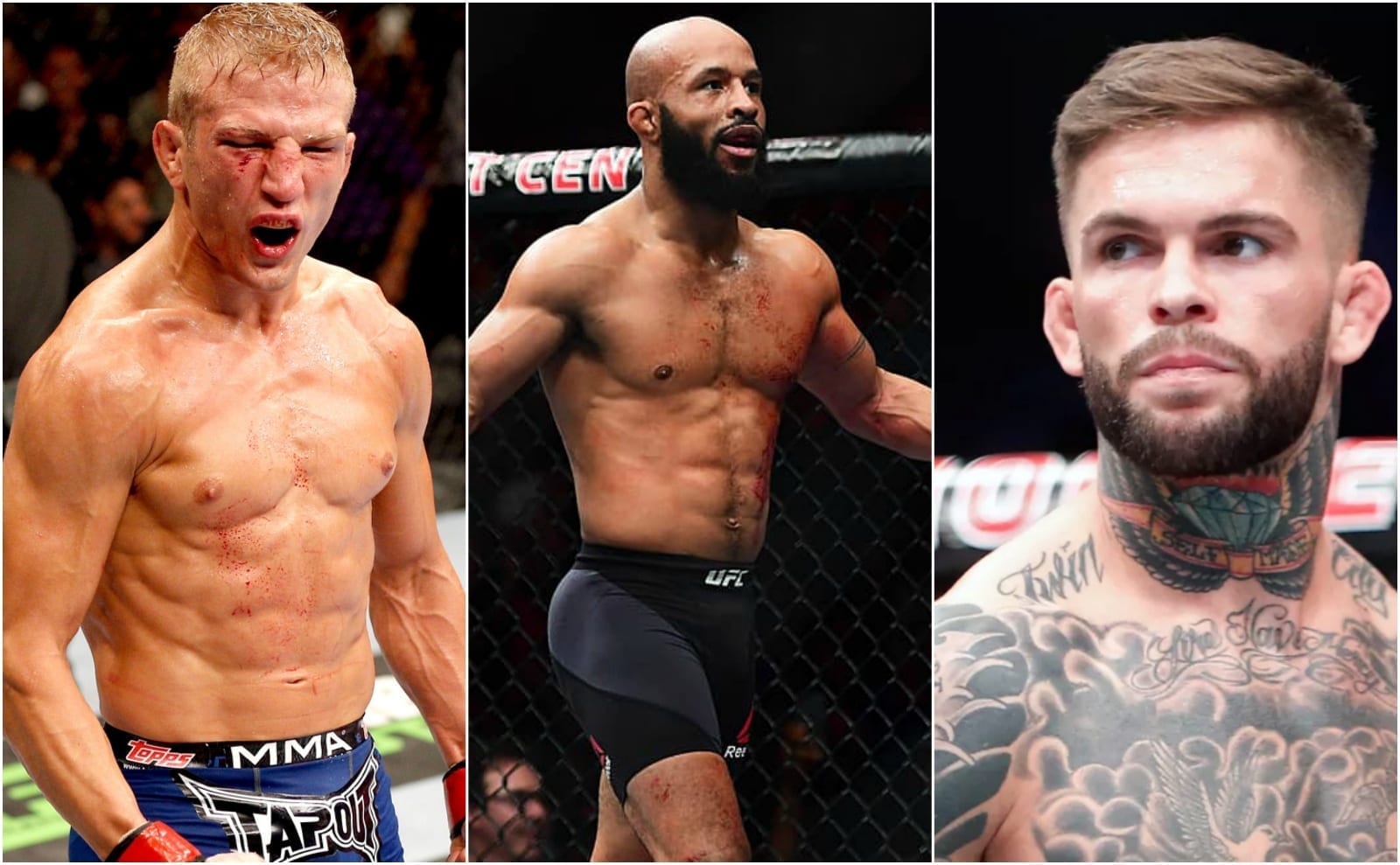 The rivalry between Cody Garbrandt and T.J. Dillashaw is well documented.
For Garbrandt, Dillashaw represents a traitor to the Team Alpha Male gym, while for Dillashaw, Garbrandt is just blindly following the briefing and has no justification for his ill will.
As such, any meeting between the two tends to be a frosty affair. During their filming of The Ultimate Fighter, they would frequently get into verbal — and sometimes physical — altercations, with Garbrandt laying accusations at Dillashaw while Dillashaw deflected the younger man's temper and insult.
But, while the two don't have much common ground to find, they both have similar goals in mind. After the two square off at November 4, each man seems to want to try their luck at flyweight against the current best Demetrious Johnson.
Speaking on the UFC 217 Media Call, both men anticipated a champion vs. champion clash in the future should they win at Madison Square Garden.
"With a knockout over T.J. I've wiped out the division," Garbrandt said. "There's a big gap between myself, and then it goes Dominick, T.J. and then it falls off from there. T.J.'s my next adversary, my next challenge and I know what he brings to the table. I'm focused and prepared on that, to wipe him out, and then go on from there.
"I always like to have a fight ahead of myself planned ahead. Obviously [I'm] focusing on T.J., but Mighty Mouse is next at 125-pounds. I can make 125-pounds on November 4 if I wanted to."
While there had been some discussion of a Garbrandt win being met with a Dominick Cruz rematch, Cruz has now been booked in a fight with Jimmie Rivera for UFC 219. Because of that, the next contest in line (should the champion retain) seems a bit hazier. To everyone else but him.
"I could care less what Dominick does in the Rivera fight. Neither of those guys are money fights for me anyway," Garbrandt said. "First and foremost focus on T.J. — this is a gimme fight too. This is a fight for me that I'm gonna end this dude, and I can pick my fights after that. — I'm gonna fight Mighty Mouse down at 125, and thats just business. I like the guy a lot, but that's just a business move for me."
For Dillashaw, it appears to be slightly less cut and dry. Having lost to Cruz at the very beginning of last year, a Dillashaw victory at UFC 217 would make a rematch between the two incredibly palatable for fans, especially given the close nature of their original bout.
But, it's not as if the former bantamweight champion is ruling out a rumoured drop to 125-pounds either.
"It's one step at a time," Dillashaw said. "I'm fighting Cody Garbrandt right now. [Dropping down is] always an option. Mighty Mouse is the pound-for-pound king right now, so that's who everyones gonna want to shoot for. He's the one with the target on his back. I'm excited to fight the best in the world, so that's always an option."
Previously, Johnson has shown a reluctance to face anyone who hasn't proven themselves already at flyweight. But, with a record in the books as the man with the most UFC title defences ever, perhaps he might be open to some of the more extravagant challenges to cement his position as the best.
Comments
comments