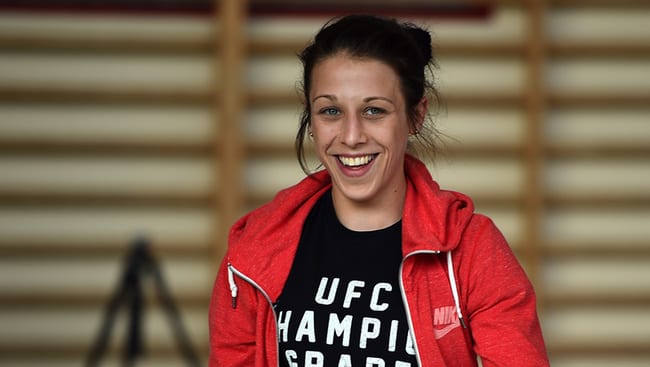 Joanna Jedrzejczyk can never be accused of being an unconfident champion. The UFC women's strawweight has taken on all comers, devastating most of her contenders.
At UFC 217, she'll face Rose Namajunas, and with a victory could rival Ronda Rousey's record title defences. It marks Namajunas' second shot at the title, although the first with Jedrzejczyk as champion. And in most judgements, it has the potential to be a routine defence for the Polish striker.
One avenue that Namajunas does have to victory, however, is the grappling ability to cause problems for anyone in the division. That, and what she considers to be a renewed mental toughness inspired by the hardships in her life.
"[I can win by] just being myself," Namajunas said, speaking on the UFC 217 media call. "It's pretty difficult to deal with when I'm totally in tune with myself and I'm flowing. It don't matter who I'm fighting. I carry all of my experiences with me, whether they be a win or a loss, but losing the first title fight has definitely brought my team closer than ever and made everybody build me up from the ground up.
"I'm fully complete everywhere, so I'm the total package."
At that point in the call, Jedrzejczyk interjected, letting Namajunas know in no uncertain terms how she anticipated the contest going.
"I'm very happy, this is what I'm expecting Rose," Jedrzejczyk said. "I'm expecting really good fight, and real war, but I just want to tell you that you've never, never faced someone like me. And I'm the champion for the reason, and I'm going to prove that on November 4, baby. I'm making history one more time at the Garden.
"You don't see me on the ground. But I feel pretty confident on the ground. I had my last sparring session today; everything's on point. I know she is tricky, she is sneaky and her ground game is very good but she is going for the rear-naked choke. First of all, if she wants [to take me down], if she wants me to submit, she must go through the punches and kicks. If she wants to play on the ground, I will play on the ground and choke her out."
Comments
comments