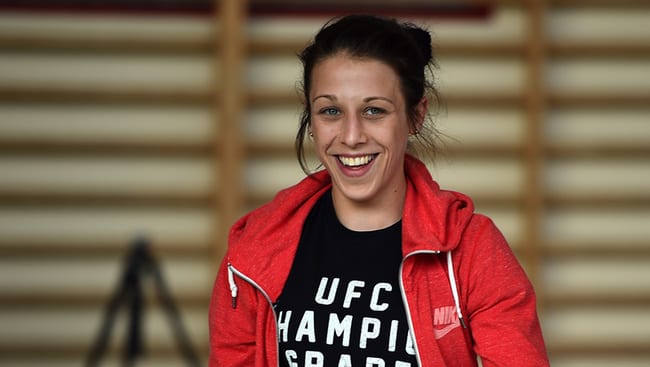 Few observers would contradict the claim that the status of the most dominant female fighter in mixed martial arts currently rests solely with Joanna Jedrzejczyk.
The Pole turned in another stunning performance last weekend at UFC 211 in Texas, comprehensively outworking Jessica Andrade on her way to the fifth defense of the UFC women's strawweight title she won from Carla Esparza over two years ago. So dominant has Jedrzejczyk been throughout her UFC tenure that many are stating a case for her being considered the greatest female fighter of all time — a moniker which was previously reserved exclusively for Ronda Rousey.
Rousey's two most recent performances, along with the continuing questions as to whether she will ever fight again, have led to speculation in some quarters that the former 135-pound champion is more focused on television and film role and her fight career but Jedrzejczyk says that Rousey's accomplishments in the sport should not be forgotten.
"I know that Ronda Rousey is one of the greatest athletes in this sport," the champion said to MMAJunkie. "And I don't believe that she was focused more on the movies, and the commercials, photo shoots, than on training. I don't believe that, because she became an Olympian medalist when she was very young, and I know that she knows what hard work means."
Rousey was defeated by Amanda Nunes in under a minute late last year in her comeback fight after losing her title to Holly Holm in November of 2015 but, as Jedrzejczyk explains, Rousey should be remembered for his successes — of which there were many.
"It just happened," she said of Rousey's most recent defeat. "MMA is a beautiful sport, but anything can happen. One fight, one submission, can finish the fight. And the same thing could've happened in my last fight, or in the past, or it might happen in my next fight.
"Ronda Rousey, she's still a champion to me and to so many people," Jedrzejczyk added when questioned by MMAFighting. "I like her so much and I cannot compare myself to one of the greatest -– (a) still living legend. But, it's nice -– it's good to hear. With every fight, I want to put on better and better performances, and put on great fights to show people who I am."
Comments
comments