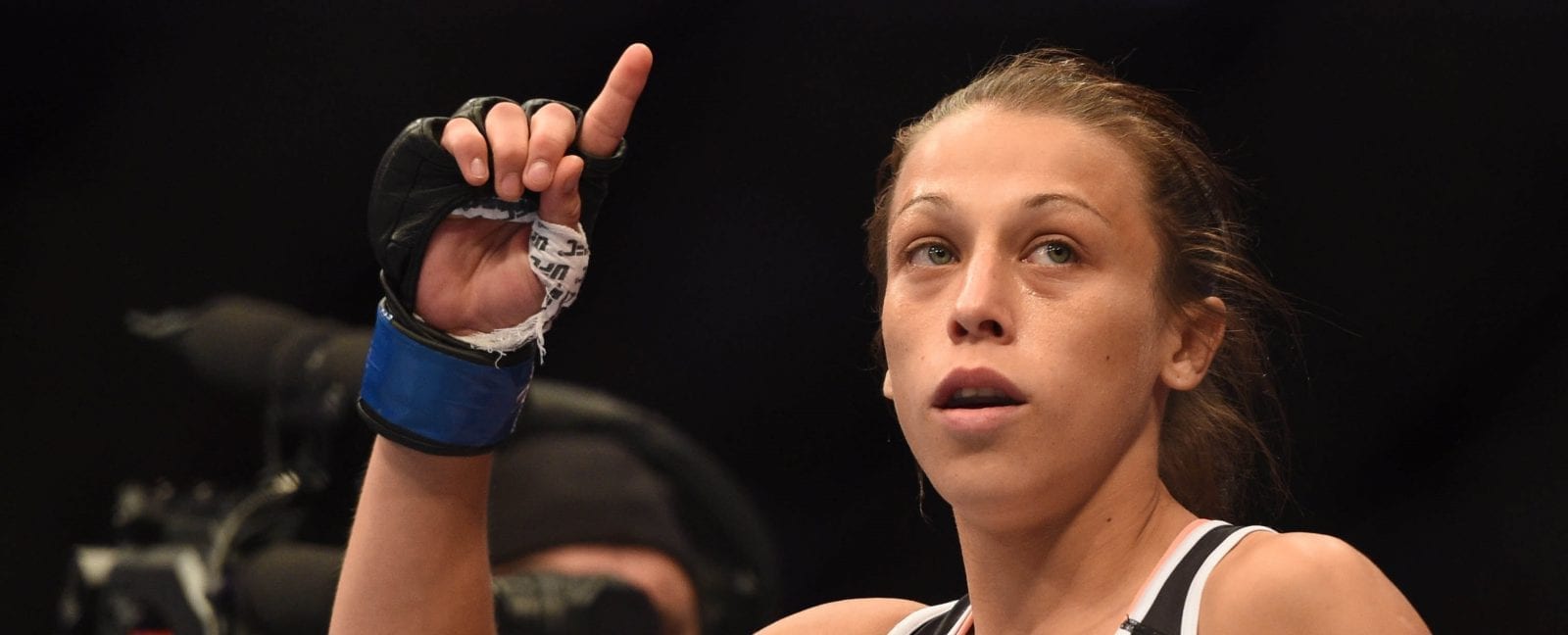 On Saturday night, Joanna Jedrzejczyk will face Rose Namajunas for the UFC strawweight championship. Should Jedrzejczyk be victorious, she will equal Ronda Rousey's title defence record during her pioneering streak.
For Jedrzejczyk, it's certainly an accolade she'll be happy to receive, but by no means the complete summary of her career. Instead, the champion points to her own work ethic as concrete evidence she deserves to be reminded long after her reign comes to an end.
"It is the record, but it's all about my personal record. I break records everyday," Jedrzejczyk said, speaking on the Fight Society podcast. "I break barriers everyday, my personal and my private barriers because it's not easy. If you want to stay a champion you can't only have this hype. There is a time to do media, to be on the cover of magazines, to be on the TV but then there is a time for hard work. You must be like the butcher and work your ass [off]. There is no time for make up and [magazine] covers and photoshoots.
"There is only time to be beat up everyday but this is what I like and that's why I'm the champion."
At 30-years old, Jedrzejczyk could likely stick around for a few years yet, continuing to build on her legacy and leave her position as the number one pound-for-pound female fighter in history as inarguable.
But if you were to ask Jedrzejczyk herself, she feels as if she might nearly be at the end of her fighting journey already.
"There are some people who think I haven't done enough yet, but I think I've done a lot in this sport. Six title defenses. The thing is I will see," Jedrzejczyk said. "It's very hard to stay away from my family and in the future I want to be a mom. I want to get married and I want to be a mom, so it's difficult to say stop when you're successful in the business world, in fighting, and now it's time to be an athlete. But I'm 100-percent into everything I do in my life. I don't know.
"There will probably be a day that I will say enough is enough and I will just focus on my private life, but I don't know yet when."
For now, however, retirement remains a way off. Instead, Jedrzejczyk will aim to rival Rousey's record this weekend.After that, it seems she'll reach a fork in the road.
While some imagine Jedrzejczyk will continue at 115-pounds to raise the record further, others see the Polish striker moving up to flyweight (125-pounds) and going for a second title there. With women's flyweight being brought in, Jedrzejczyk could end up facing bigger women coming down from bantamweight, offering her a new challenge.
"Definitely, the flyweight division is something I think about," Jedrzejczyk said. "But if I mvoe up it's going to be the biggest challenge of my career. I will see."
Comments
comments