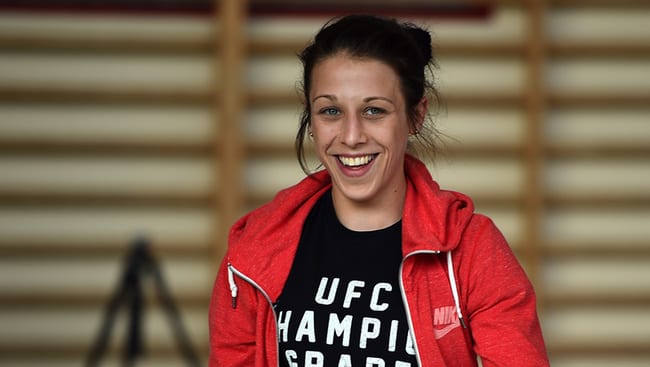 It has been just half a year since Poland's Joanna Jedrzejczyk was unanimously hailed as the world's best female fighter but a couple of losses to current women's strawweight queen Rose Namajunas has very much stifled that claim.
Nonetheless, Jedrzejczyk claims that her absence from the summit of the division is a temporary one and is of the opinion that a win against Tecia Torres in her next bout at UFC Calgary will set up a third showdown with Namajunas.
The Pole has toyed with the idea of moving to the newly instigated flyweight division but Jedrzejczyk stated that she won't consider pursuing a championship in a new weight class until she regains the title she lost in New York last November.
Speaking with Ariel Helwani on The MMA Hour (as transcribed by MMA Mania), Jedrzejczyk said of her next bout: "I am very happy to fight Tecia. The good thing is she fought Jessica Andrade in her last fight, she lost that fight. But Jessica Andrade is going to be the challenger for Rose Namajunas. So I am very happy to face Tecia Torres and get the title shot after this fight.
"That's the plan. I know more than you guys and I am very happy to have this fight. Tecia Torres is a real warrior so I am very happy to face her. She was training at American Top Team for a long time, she left a year ago. I think it's good and it will be a very interesting fight."
Despite the pair of defeats against Namajunas, Jedrzejczyk's status as one of the division's elite fighters remains largely intact — though it would be something of a rarity to afford a title bout to a fighter who would, in theory, be 1-2 in her last three bouts, especially when she already holds a pair of losses to the champion.
Despite her recent setbacks however, Jedrzejczyk thinks it is just a matter of time before the UFC title rests around her waist once again.
"I believe I am going to get title shot after this fight. But I said I could have a lot of fights before I get title shot, I went through this in 2014 and 2015. I want this belt and I will get it back, mark my words."
Comments
comments