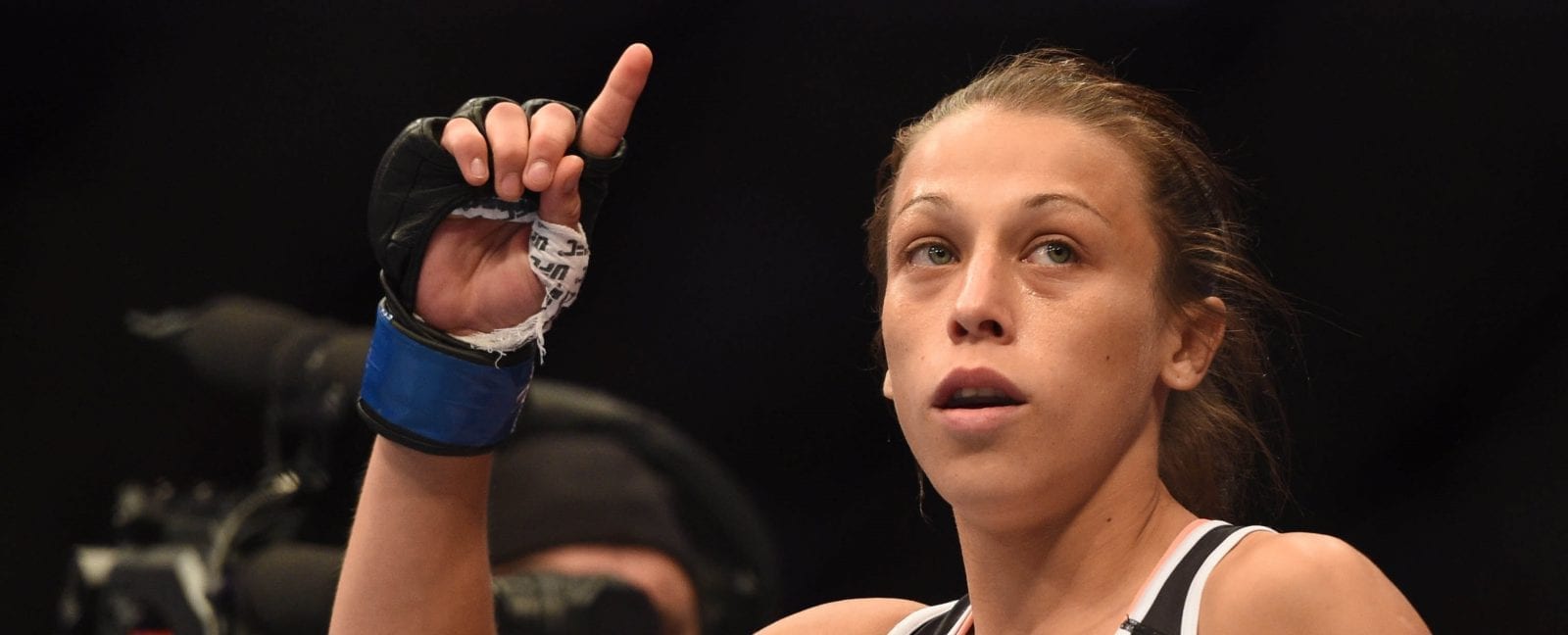 It's fair to say that Rose Namajunas' win over Joanna Jedrzejczyk at UFC 217 was one of the biggest upsets of this year. With Jedrzejczyk being as dominant a champion as the UFC currently had on its roster, Namajunas knocking out the Polish star in the first round of their fight had many standing with mouths agape.
The theories as to why Jedrzejczyk lost are plenty. Some, including the former champion herself, point to a devastating weight cut — one which even had Jedrzejczyk leaving a management team that she'd proudly expressed love for. Others believe it's more to do with Jedrzejczyk herself, and the confident demeanor she'd portrayed ended up betraying her.
For what it's worth, Jedrzejczyk hears the newly confident doubters. And if you know anything about her, you'd be unsurprised to know she doesn't care.
"Everyone keeps asking me how I deal with this hate," Jedrzejczyk said in an interview with Polish outfit Weszlo (translated via Google). "I'm completely focused on it, I'm not losing energy. I am not an influencer, Instagram [model], blogger, only an athlete.
"Do I have anything to prove? Maybe it's just that people are so wrong. They do not know what these thirteen weeks of preparation looked like. I'm talking about trainings, because fighting is usually only pleasure. The main test always comes up during the preparation, because you wake up in the morning with a covered nose, a broken finger, bruises, a curled ankle, but you know that you have to go to the room anyway. I am a crazy trainer, the camp before the fight with Namajunas was the best in my life. However, it ruined my weight loss. My head coach said that I was ready to fight two days earlier."
As is often the way when a dominant champion loses, Jedrzejczyk has faced many skeptical of her reasoning, something she herself is aware of. After doing an interview in which she detailed how her weight cut went wrong and ended up (in her mind) costing her performance, plenty of fans felt Jedrzejczyk was being a poor loser, and making up excuses.
Jedrzejczyk says that her weight cut problems were real, and as evident by her changing teams, she'll be ensuring nothing similar happens again in the future.
"Talking about all this in the interview for "Przegląd Sportowy" I just wanted to show people the truth," she said. "But as you can see many of them do not want to listen to it anyway, because they have their conspiracy theories. Me and my trainers, however, know what really happened. And today I understand that before the next fight I will be even more demanding, not only to myself, but also to all people with whom I work. Until now, even business relations have been built on a more human footing, but I know that now there will be no exceptions. I'm never looking for excuses myself during the preparations, I always go one hundred percent, so now everyone will be accounted for very much, but very much. Because in the last fight no one else was at fault, only my doctor and dietitian."
All that being said, Jedrzejczyk feels she'll return to her position at the pinnacle of the division eventually. Why? Because essentially, the best are the best.
"Because it is simply the best. [Whoever] is the right person should carry this belt," Jedrzejczyk said. "And I'm really not interested in whether I will fight for the title with Rose, or maybe another player who will eventually beat her. They are all only temporary, I'm the real owner of this championship.
"I think I proved it for two years and eight months when I had a belt. I did not fight for the title once, only seven times and it is of great importance. Soon I will come back for my own."
Comments
comments