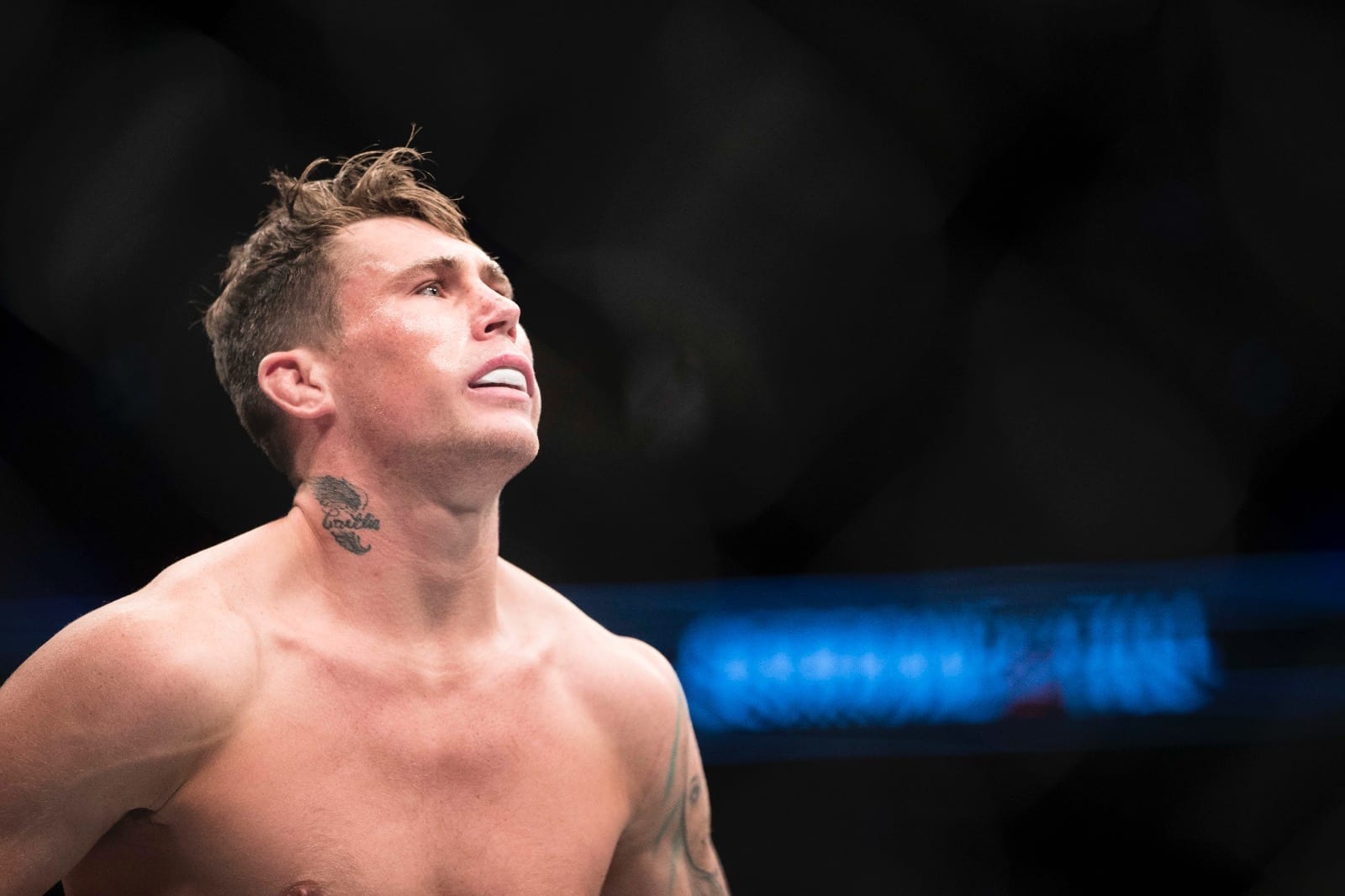 With Michael Bisping's retirement imminent, or having already happened, there is a space to be filled atop the the UK MMA scene. A new breed of fighters, such as Arnold Allen, John Phillips, Brett Johns and more have already stated their case but, for now at least, it seems like Liverpoool welterweight Darren Till looks poised to assume the throne.
Till's last performance, a first round knockout of Donald Cerrone in Gdansk, Poland, last October was a star-making performance for the Englishman. Since then, Till has been linked with bouts against everyone from Gunnar Nelson to Stephen Thompson to Mike Perry and Colby Covington. Speculation had been rampant that Till would headline the UFC's March event in the English capital against Nelson, but it now seems that an April bout with Stephen Thompson is more likely.
A win in a bout against two-time title challenger Thompson would certainly propel Till into title contention of his own. However, another English fighter has issued a word of warning to his compatriot.
Jimi Manuwa, himself the subject of huge hype after a series of impressive finishes in the octagon, suffered defeat to Volkan Oezdemir in his last bout and has warned Till that mixed martial arts can be a fickle sport — one minute you're on top of the world, and the next you are yesterday's news.
Speaking with MMANytt.com, the light heavyweight said: "Listen, I like Darren Till a lot," Manuwa said. "I noticed this kid way before he blew up. I've spoken to him a couple of times and I remember I spoke to him in Sweden when Alex was fighting one time and I rated him. It's great to see he's getting blown up and everything.
"What I don't want is for him, look, I just want to wish him the best of luck and everything. I know this MMA game is ruthless and they're building him up so big and all it takes is one little setback. Take Francis Ngannou for instance, it's the perfect example. Everyone was building him up so much as the next big thing and the UFC were working overtime, but he lost the other day. The change in people's attitudes is so shallow, it just makes me sick.
"They build you up to bring you down. I know myself. I knocked out OSP and Anderson and everyone jumped on the bandwagon. I have one loss and then the same people are saying I'm s*** and that I've got a glass chin. I just know what it's like and I wish him all the best. I hope he goes all the way to the top because he's nice kid and I believe he can be a champion. I'd say to him though, this game is ruthless, so just be wary of what will happen if you do suffer a loss."
The UFC clearly see star potential in Darren Till, so it will be very relieving to see who they book him against in his next bout. If indeed it is Thompson, it would be a fascinating test for both to determine who is the premiere striker at 170-pounds. But, as Manuwa suggests, a loss could derail a significant amount of Till's hype, fairly or not.
As for Manuwa, he has been included on the UFC's March 17th card in London where he will face Jan Blachowicz in the co-main event.
Comments
comments