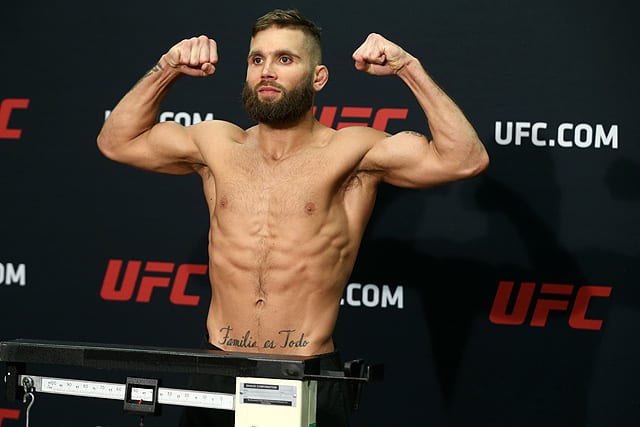 When the UFC rang Jeremy Stephens to offer him a shot at a UFC interim featherweight title in the wake of Max Holloway's medical issues, it took him nearly no time at all to accept.
At first, it seemed he'd be matching up with Brian Ortega, Holloway's original title contender. When Ortega elected to not accept the short notice bout, and instead wait to meet Holloway upon the champion's return, the UFC turned to Frankie Edgar and asked if he would face Stephens for an interim belt instead. When that fight also was unable to be made, the promotion had to accept the fact they'd lost one of their title bouts for International Fight Week.
But, by merely asking the question of Stephens, it seems the UFC have awoken something of a sleeping dragon. Stephens is currently set to face Jose Aldo at the UFC ON FOX 30 card, July 28. With Ortega's refusal to accept a short notice fight in mind, Stephens believes there is an opportunity for a victory over Aldo to propel himself over Ortega and into title fight contention — or better yet, Stephens wouldn't mind scrapping the entire Aldo fight altogether, and meeting Ortega as soon as possible.
"I told [White], 'Hey, no offense to Aldo but he's had two shots that he's lost back to back," Stephens said, speaking with ESPN's Ariel Helwani on the Ariel Helwani MMA Show. "I'm the next dude in line, like give me this kid'. I'll wait an extra couple weeks to get paid, couple months to get paid and fight this kid who's a rising star, because Max is in a serious situation. If that's the case, August 4 in LA, that's where the kid's from. I'll go there. I'm not in here to be famous, I'm not in here to be the most liked guy. I give two shits. The only thing I care about is putting your chin in the pavement, and me getting paid. That's it."
It's not that Stephens has a grievance with Ortega, more that he just believes it's time he fought the cream of the crop at featherweight.
"I don't know the kid, I don't know him personally," Stephens said. "From what I hear, he does great things for the community. Congrats to him. I don't mind giving the kid props, he's an up and coming rising star, but I put stars like that out. He's just next, he's just that dude on the list. You know what? I ain't going anywhere, he ain't going anywhere, so why not fight? This is the fight business. This is what we sign contracts for.
"If Max is not going to be around for a while and maybe he has to move up or maybe he never fights again — I wish Max the best but I'm next in line. I'm willing to fight this kid in August, in September, in October, in November. I'll fight him in back to back months. It doesn't matter. One thing of right now, I can't sit there and focus on what if, what if. The only thing I know is I'm fighting July 28 in Calgary."
ack
–
Comments
comments