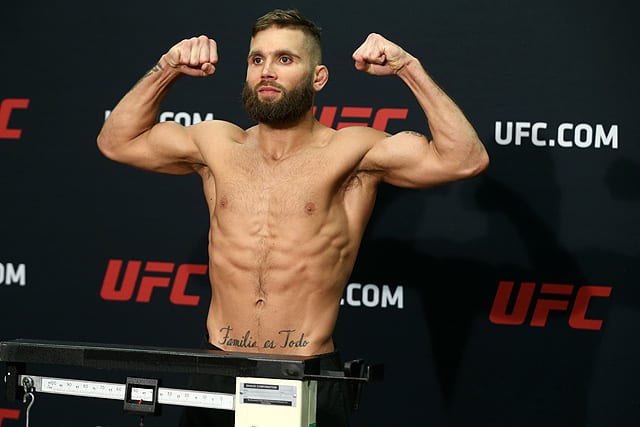 Jeremy Stephens and Yair Rodriguez' fight in Mexico City was tragically over before it really got started due to an errant eye poke that left Stephens unable to continue just a few seconds into the opening stanza.
For Stephens, it's a situation best resolved with an immediate rematch… and apparently one nearly occurred outside of the Octagon.
"Fuck, the other day we almost got into it at the hotel," Stephens said, speaking on the Ariel Helwani MMA Show. "I thought he was trying to come up and be cordial, but he comes up and trying to talk shit to me. I came here to compete and fight, I had to shove him back across the hotel, we got into it a little bit.
"If you want to talk about me, then let's talk about running it back in the United States in some of the three greatest American places over here … We got Boston, we got MSG, we got [Washington] D.C., those are three great American places. You gonna talk about me, let's fight. I came here to compete, he's in great shape, I'm in great shape. We spent hard earned money, let's go."
In fact, Stephens says there is footage of the altercation, but we're unlikely to see it as Rodriguez' sister was the one filming.
"He comes up all cordial giving a thumbs up like, 'hey, is everything okay?', he comes up and shakes my hand. I thought he was trying to be a gentleman, I get it. He starts talking shit to me. I'm not from karate school bro, I'm from the street, I came here to compete, I'm here to fight, I'm here to kill you so right away my mentality was back the fuck up, so I shoved him and his coaches, his dad and his parents and everybody was like, 'woah, woah, woah'.
"I know his sister has footage, I was waiting for them to release that footage, but I guarantee they're not going to release that footage because [Yair] looks like a coward. … I'm not going to let you come over talking shit, especially when you eye poked me."
Comments
comments