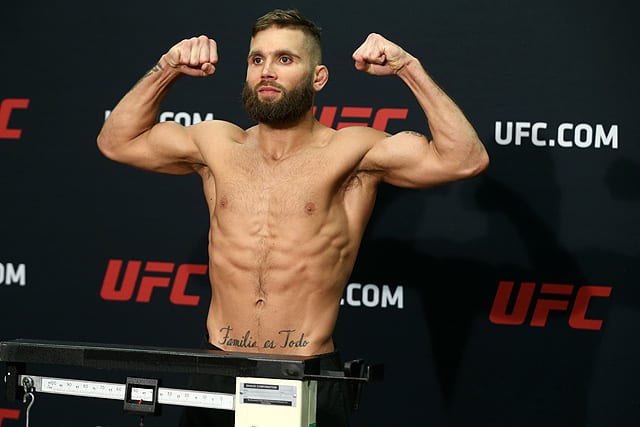 UFC featherweight Jeremy Stephens told Ariel Helwani on ESPN that he experienced thoughts about ending his own life, as he dealt with the fallout of a defeat in his last performance against Jose Aldo.
Stephens had won three high profile bouts in a row against Gilbert Melendez, Doo Ho Choi and Josh Emmett to stand on the cusp of title contention at 145-pounds only to lose via first round TKO against the Brazilian former champion, ending any immediate discussion of a potential title bout.
It was, as Stephens said, a crushing blow.
"After the fight, I was looking at my kids who were 9 and 7, and that was when my parents split up, when I was 8 years old," he said. "I was ready to leave my wife, leave my kids and just leave it all. Thinking suicidal thoughts.
"I didn't really believe in myself. Why should a young kid from Des Moines, Iowa, be a world champion? Right as I was about to get my title break, I would just drop the ball. There was no self-confidence. Those things were holding me back."
Thankfully, Stephens says that he never attempted suicide and found solace in the advice of Alliance MMA coach Eric Del Fierro who directed him to receive counselling.
"People look at us as fighters, and yes, I'm probably one of the toughest dudes you'll ever meet, but I've also been down in the dumps," Stephens said. "I'm a real human being. I'm a person, I have feelings, I have emotions. Going through this program has really put me on another level mentally. It's helped my family. I've seen how it's affected my relationships and opened me up to a whole new world."
Stephens returns to action this weekend at UFC 235 against top 145-pound prospect Zabit Magomedsharipov, where a win against the highly-touted Russian would certainly be the notable scalp necessary to reignite title aspirations.
Comments
comments