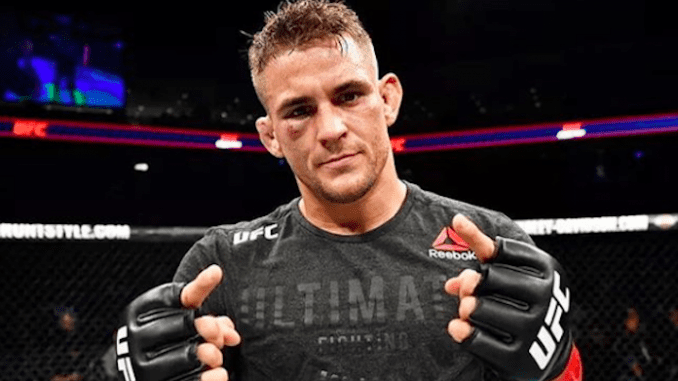 At UFC 236, two of the most in-form fighters on the UFC roster will square off for a chance to claim the interim lightweight championship though, as Dustin Poirier will face featherweight champion Max Holloway, and Poirier says that his status in the fight is just given his recent run at 155-pounds regardless of Tony Ferguson's current status.
Ferguson, though, turned the opportunity down and despite not quite understanding why, Poirier says he is unconcerned and focused only on making his own title aspirations a reality.
"I'm not sure (how this happened)," Poirier said to MMA Junkie. "I don't know. I don't make the decisions. I don't even know what happened. Honestly, these last few months I've been kept in the dark, really. I've been here seven weeks now in South Florida at my spot training. Not in a training camp preparing for anything, but just learning and staying on the mats. I just felt like something big was coming, and I decided to stay here. Good thing I did because I got the call for this one."
"Originally they wanted Max and Tony, and then they called me," Dustin Poirier explained. "They didn't really have a whole lot of plans, then at the last minute they tried to put together Max vs. Tony. Then they called and said, 'If for some reason Max falls out or doesn't take it, you're going to fight Tony for the interim. If for some reason Tony doesn't make it, then you're going to fight Max for the interim.' Tony apparently didn't think it was the right fight at the right time, or he had something going on. I don't know his exact story.
View this post on Instagram
"I'm trying to figure out why he couldn't make the date, but honestly I don't care. I hope everything is good for him and his family and hope he's healthy, but this is my opportunity."
Poirier and Holloway met early in their careers at featherweight, with Poirier winning by submission. His recent form at 155-pounds has seen him finish three former world champions in a row and 'The Diamond' sees this bout as reward for the years of grafting in the cage and in the gym.
"This means everything to me," Poirier said. "When I get that belt wrapped around my waist, it solidifies – well in this day and age (you never know) – it should solidify that I'm going to unify the belt with Khabib in the next fight. It says I'm the best in the world, but I still have a lot more work to do after that. It's not done yet. It helps me move forward in my career where I want to go.
"I know a lot of people are going to (expletive) on it because that's the way people are. People suck. They're going to say, 'You're not the champion.' But let me tell you what: After 40 fights, after 12 years of struggling and climbing back from adversity, after all the sacrifices I've made with my family, that my wife has made because of the ups, the downs. When they wrap that around my waist, I promise you not a person's opinion in the world is going to matter. I'm going to be the world the champion."
Comments
comments