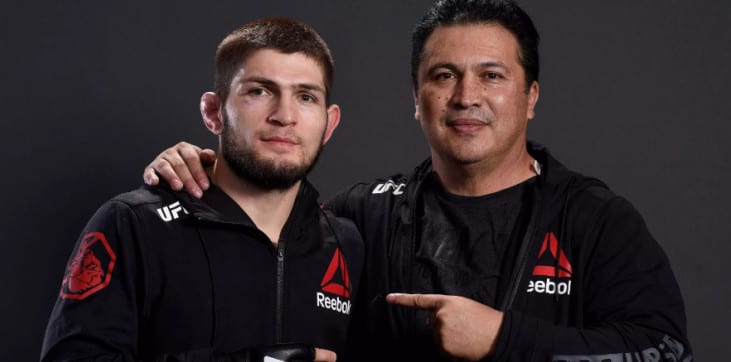 Khabib Nurmagomedov's coach Javier Mendez will be watching Saturday night's contest between Tony Ferguson and Justin Gaethje intently, but he believes there's still a bigger challenge out there for his student than the winner.
According to Mendez, Nurmagomedov's rival and former opponent Conor McGregor still represents the biggest danger to the Russian's world title.
"Wrestling wise, [Ferguson and Gaethje] cancel each other out when it comes to going with Khabib. They both have division one wrestling. Striking, they're different in striking. We worry with elbows with Tony, [he] has got great elbows and some submissions that are tricky, whereas Justin has none," Mendez said, speaking to Luke Thomas.
"But Justin is great with leg kicking. Great leg kicker, is going to be in your face, and he throws decent power, then he's going to knock you out. He has the intention of knocking you out. They both possess different strengths. That's what I have to say about that. I don't think one's really, in my opinion, that much more dangerous for Khabib than the other, but they're both dangerous.
"They both possess different strengths. The only thing about Tony is, in my opinion, you can't break him. He won't break, he will not break. So you're going to be in there five rounds with this guy, and if [you] can't make five rounds, you're in trouble."
Despite that analysis, Mendez is still quick to say that, despite the challenges UFC 249's main eventers pose, it's just not the same as McGregor.
"No, I'm sorry. I think it's still Conor, even though people may disagree with me. But I just know how good Conor is. Conor is the toughest fight to date," Mendez said.
"[Tony's] got way better cardio, but Conor was dangerous. Anytime you let Conor unleash any kind of striking, he could put you out. And that's why he was so dangerous to me. You let Conor get in his groove, he would have done some amazing damage if we would have allowed him to, but of course, that wasn't going to happen.
"But, I still fear him. I really do. Not that I don't fear them the other guys, but I still fear him. I still think he's definitely on the level who can do what I think. He still is one of the guys that, that I would do more homework on."
Comments
comments