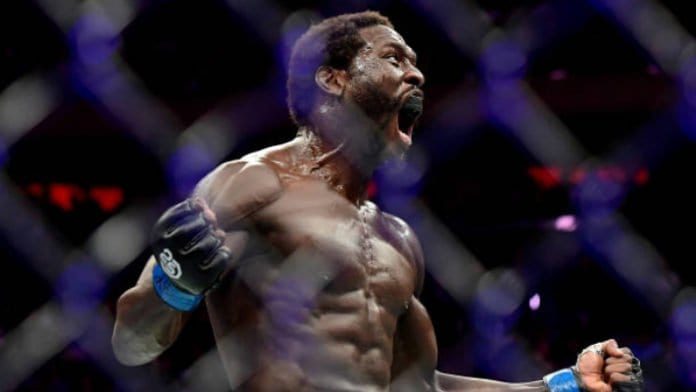 It's safe to say that Jared Cannonier is aware that that clock is ticking on his UFC title ambitions.
The 39-year-old came up short in his one title bout to date in July of last year — his only defeat in his past five fights — but is steeled himself to carve out one more world title push before he hangs up his gloves. And it is with that in mind that he wants to be selective about his next fight following last weekend's ultra-exciting showdown with Marvin Vettori.
A next opponent, Cannonier says, will have to bring with him the necessary gravitas to act as a stepping stone back towards Israel Adesanya, the man who beat him last summer, and if Khamzat Chimaev can help him get there, so be it. But if a win over the Chechen-born Swede doesn't bring with it a title shot, send someone else, he says.
"The way I see the immediate future going, Robert [Whittaker] is going to fight Dricus [Du Plessis]," Cannonier said at Saturday's post-fight press conference in Las Vegas, as noted by MMA Fighting. "I know Israel [Adesanya] wants to fight Dricus so bad, but I feel with my performance, as far as the guys who make that decision go, I'm sure that puts my name well up there in that area.
"I'm not really concerned myself with what may or may not be, I'm just going to focus on the next fight. I'm going to get back in the gym, get back to making myself better, get back to improving on my skills, and worry about the next fight."
As for Chimaev, it is nearing a year since he last competed in the cage — and it still remains somewhat unclear if his next fight will take place at welterweight or middleweight, given that he has been linked to a host of opponents, including former 170-pound champion Kamaru Usman.
"Does that fight get me a title shot?" Cannonier asked of Chimaev. "You think so? I don't know. He's not even ranked at middleweight, is he? I know he's popular. Everybody wants to see him do his thing and stuff like that. If they called me and said, 'Hey, Khamzat for contender's match?' That's a yes.
"I'm trying to get to the title. I'm not just fighting to entertain you people. I know you guys want to see it. I know it would be a good fight. If that gets me the title shot, yes. I just beat No. 3. I'm not looking back, I'm looking forward. I'm looking at the champion.
"So if Dana and Hunter and them say, 'He's between you and the champion,' that's something we can talk about. But if you're saying, 'Would you fight Khamzat and welcome him to the division?' I'm like, does that get me to the title? That's the question I'd have for you."
Comments
comments