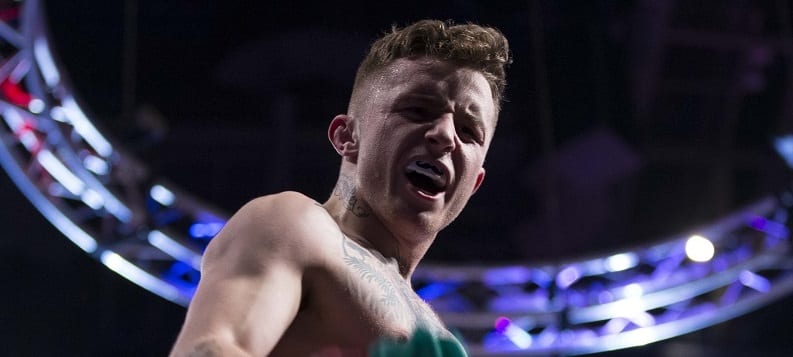 James Gallagher (6-0) lived up to the lofty expectations attached to his name on Friday night at Bellator 173 in Belfast, Northern Ireland.
Despite just recently turning 20-years-old, the Strabane native has been tagged as potential superstar since he was a youngster. The clinical performance he showcased to blitz through Israel's Kirill Medvedovsky (7-4) in the co-main event served to re-emphasise Gallagher's growing reputation in the sport.
Gallagher credited Owen Roddy post-fight for the improved striking he showcased against Medvedovsky. In the early stages of the brief contest, Gallagher stalked forward and threw a wide range of strikes. At one point Gallagher threw a flying knee straight from the arsenal of fellow Bellator fighters Michael 'Venom' Page and Paul Daley, both of whom were watching from cageside.
Once the fight hits the mat though, that's where Gallagher shines.
Gallagher wasted little time in scything though Medvedovsky's (a Brazilian Jiu Jitsu brown belt) guard, before taking the back and sinking in the fighting-ending choke.
HUGE statement win from @StrabanimalMMA! Who does he want next?? #Bellator173 pic.twitter.com/slRFq9S9wK

— Bellator MMA (@BellatorMMA) February 25, 2017
And with one job done, Gallagher turned his attention to what might possibly be next in his post fight interview by throwing down a challenge to fellow undefeated Bellator featherweight A.J. McKee.
"AJ McKee, you're a fucking pussy and you're next", Gallagher said to Jimmy Smith. "London — 19th of May, I'm going to strangle you. You come here bitching out on your teammate. Come here and I'll fucking show you who's real. I'm real and you're getting done."
Shortly after, McKee posted an Instagram video in response.
Speaking exclusively to TheMacLife.com after his fight, Gallagher pre-empted McKee's 'sign the contract' request saying he can't sign anything that doesn't exist.
"He's saying, 'sign a contract'. What fucking contract? I just fought. I had my contract for that fight. I signed it. If they send me one for him, I'm going to sign it. But why say sign the contract when there is no contract? If he wants me to sign a contract, tell him to go to Bellator and send me the contract. I'll sign it, no problem. I'll fight anyone they put in front of me. He wants me and I'll fight anyone they put in front of me. That's just the way it is."
Photo by Dave Fogarty.
Comments
comments