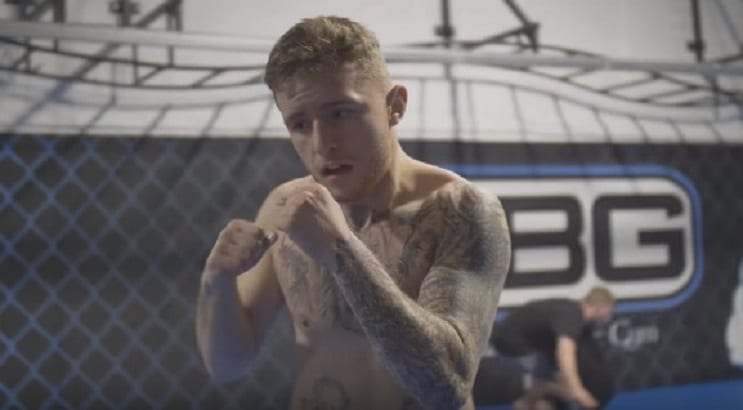 Ever since Aaron Pico entered into Bellator with an abundance of hype around him, fans have been interested in seeing the prospect match up with other up and comer James Gallagher. For the Irishman himself, he's not buying it.
In fact, he's beyond considering himself a 'prospect' at all, the way Gallagher sees it, he's here for gold. So you can go ahead and rule out seeing him step in the cage with Pico or rival A.J. McKee anytime soon.
"I'm above that. I'm here to fight for world titles and get proper money, a level they're not on," Gallagher said, speaking with ESPN. "I don't know what Bellator's plans are for us, but I know what my plans are: win a world title and beat everyone in front of me. A.J. is a tough fight for anyone, but I would strangle him. He's very good everywhere, though. I'm not going to sit here and lie and say he's shit, because that's not true.
"That's what they do. They lie about things to make themselves feel better about it. I know exactly where I stand, so I can say that A.J. is very well-rounded. But I have an edge everywhere.
"I haven't been impressed [with Pico] at all. He's what you call a 'celebrity trainer.' He goes to the best boxing gym, jiu-jitsu gym, wrestling gym — and he's a very good boxer and wrestler, but he just can't put it together. It's very clear he can't do MMA. He's shit at it. He's a beginner. He's a good boxer, but they're different sports. He's no good at MMA."
Gallagher has been out of action since a win over Chinzo Machida last year, and is set to make a return from injury on April 6 against Adam Borics in Budapest, Hungary. And if anyone has forgotten what a talent he is, he fully intends on reminding them as he continues to seek out his first world title.
"I want a first-round finish in April. I want a proper comeback here," Gallagher said. "I want jaws hitting the floor after this fight.
"I want a title shot in two or three fights. I can't see why not. Especially if I get another two or three first-round finishes. I don't see how they couldn't give me a title shot. Give me someone ranked No. 2. I'll go up and beat them and earn my title shot."
–
Comments
comments