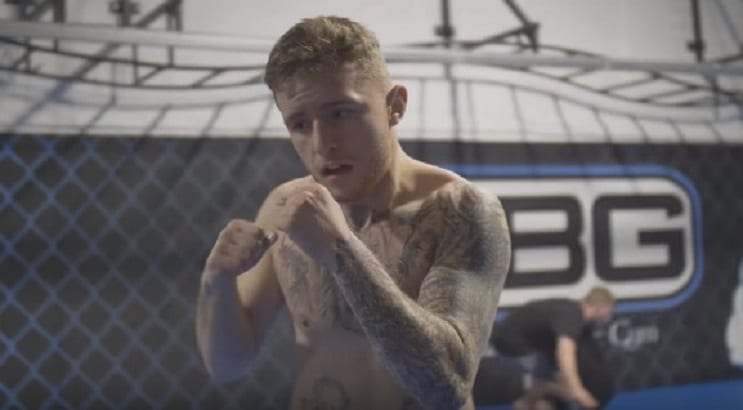 It's been over a year since James Gallagher was stood inside a cage fighting another man, but the time away has done little to dull his confidence.
As the SBG star heads into Bellator 204 against Ricky Bandejas — this time in a brand new weightclasas — Gallagher is simply relishing the chance of putting on the gloves and trading shots with an opponent en route to victory.
And as usual, Gallagher isn't shy about telling anyone either.
"It's been hard, it's been tough, it's been the lowest of the lowest," Gallagher said, speaking with media today (H/T to MMAJunkie). "I've climbed straight back up. There were days where I was even going, 'Fuck this, is this even worth it anymore?' I was that low. I was like is that even worth it? And at the end of that day I was going, 'Fucking damn right it's worth every bit of it'.
"And now I've stepped back up and get that run into fight week again, it was worth every damn bit of it. I kept my head focussed. I kept strong, pushed through it all, battled all the injuries. Everyone loves to see me down. Everyone was standing on me. I was on the rock bottom, and they stood on top of me trying to keep me down. And I was like, 'Fuck them', and got straight back up."
Should Gallagher defeat Bandejas tomorrow night, he says he's been informed by Bellator officials that he'll be fighting for the promotion's 135-pound title next up, potentially in Dublin at the end of the year. According to him, that's exactly what is going to happen.
"I'm going to walk in here and put on a clinic," Gallagher said. "I'm not looking past this guy at all. I'm going in here prepared for a solid opponent. I've prepared for the toughest fight of my life. I'm going in there as if he's a killer, but I'm just too good. I'm too good, he's not on my level.
"I'm going to go in here Friday night, I'm going to beat him and then I'm fighting for the belt in my home country, in Dublin, in December."
Comments
comments