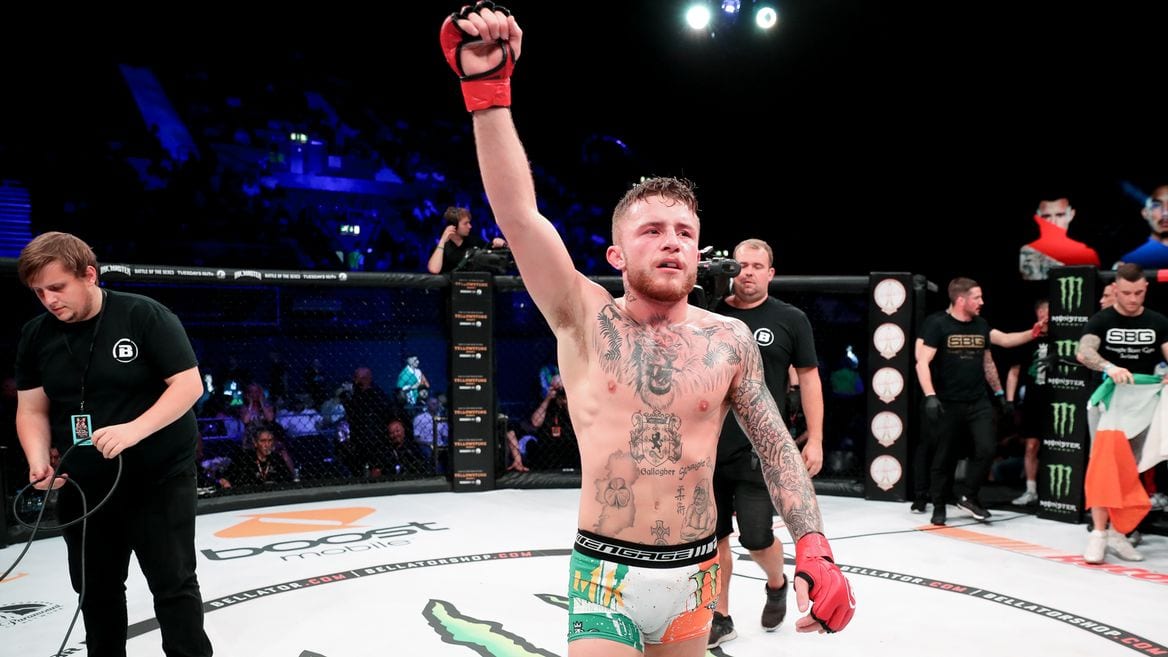 Withdrawing from an upcoming fight is always a tough proposition for a fighter, but doing so days out from the main event of a major card in the capital city of the nation you are proud to represent is even harder. 
This was the dilemma recently faced by James Gallagher after a back injury suffered in the lead-in to his Bellator Dublin headliner with Cal Ellenor forced his removal from the card but as he said on the popular Eurobash podcast on MMA Fighting hosted by Peter Carroll and Niall McGrath, it has lit a renewed fire under him.
Gallagher was slated to face English fighter Ellenor months after the original booking between the two back in September was postponed due to issues with Ellenor's medical clearance. Instead, Gallagher faced UFC veteran Roman Salazar who was promptly dispatched by submission 35-seconds into the first round.
"I'm heartbroken about it…I'm absolutely gutted," Gallagher told the podcast about his removal from the card. "It's one of those things where I kept trying to go with it… I think it was about three weeks altogether and it was that time to make a call. I was trying to stick to my diet while being on all these different forms of medication… these heavy pain killers so my mind wasn't with it.
"My appetite was enhanced by all the medication and since I was just lying around the [house] I couldn't really eat that much because I wasn't exercising. It was a rough few weeks, I wasn't even able to lift a bag – I couldn't lift my gym bag out of my car never mind go to the gym."
However, Gallagher says that he used the initial disappointment as a springboard to embolden his motivation.
"It was a rough couple of weeks, and I was absolutely heartbroken to pull out, but when I was told [I couldn't fight], I just completely changed my mindset. It was like, 'Right, I'm out now, it's time to get my back better, it's time to relax on it and stay focused on the rehab,' and that's my goal.
"My goal wasn't to fight then, my goal was to get my back better once the medics and my coaches said I couldn't. Rather than focusing on trying to fight, I just focused on getting my back better. It was a lot easier once that call [to withdraw from the fight] was made. It was definitely a rough few weeks sitting on the sofa trying to keep motivated and train—not training obviously because I couldn't actually train — but keeping that mentality and feeling good about myself… when I couldn't lift a shoe off the floor."
Gallagher is still just 23 years old and has a long career stretching ahead of him. Some fighters, maybe even a less experienced version of Gallagher himself, may well have opted to power through the ailment. Not this time.
"That kind of thing and being smart with it, not being a f*cking idiot, like, 'I'm a tough guy, I can fight, I can power on through this,' because I've got another 10 years to do. I've just done 10 years and now I have another 10 years ahead of me. I'm thinking long term, that's the key to it, thinking long term."
Comments
comments