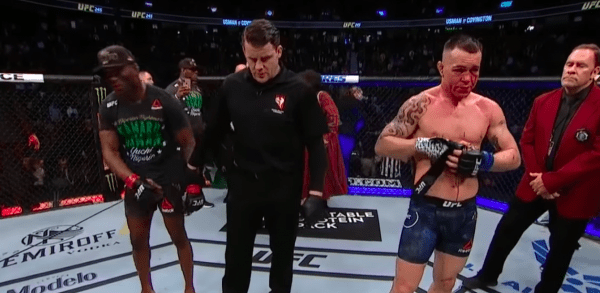 Marc Goddard isn't accepting the criticism levied at him from Colby Covington stemming from the stoppage in his December title bout with Kamaru Usman.
Covington outlined in a recent interview with Ariel Helwani on ESPN that he was dissatisfied with Goddard's officiating throughout the fight, from the fifth round stoppage to several instances in the earlier rounds which Covington said stifled his forward progress.
Goddard, though, isn't having it.
Speaking to Dan Hardy on the Listen! podcast (via MMA Junkie),  Goddard explained his actions: "(It was a) difficult fight. I know I handled it on the money, to a T," he said.
"I'm seeing things unfold, and I see Colby put down twice in rapid order – plus 24 minutes of back-and-forth before that. So there's a lot of damage sustained. Then I see him go down, and obviously he stays in that turtle position started on the double, then pulling his hands back. This is where everything will narrow in for me. I'm now firmly put in the spotlight. I have a decision to make and I'm trying to assess this. I have to assess this, real time, with everything I saw, etc."
The fifth round was a crucial one in what was an extremely close fight. One judge had Usman up three rounds to one, while another had Covington in the ascendancy by the same score. The third and final judge had it tied at two rounds apiece. The winner of the final round was going to win the fight, on the cards at least, but Goddard wasn't convinced that Covington would safely see the final bell.
"I'm looking at Colby, and then I see the damage he's sustained, the two knockdowns, etc.," Goddard explained. "When you are face down, when I can't see you, I can't read you. It's difficult for me to … that exasperates everything further. So I'm now trying to compute in my mind: 'Are you there, (or) are you not?'
"Could I have let that fight go on? Yeah. Could have I stood back and let it go on? Yeah. Should I have let it? And that's the narrative here. Should I have? And that's the point I make when I'm assessing what happened, assessing the position he's in: two knockdowns, (and) he's being punched."
Comments
comments