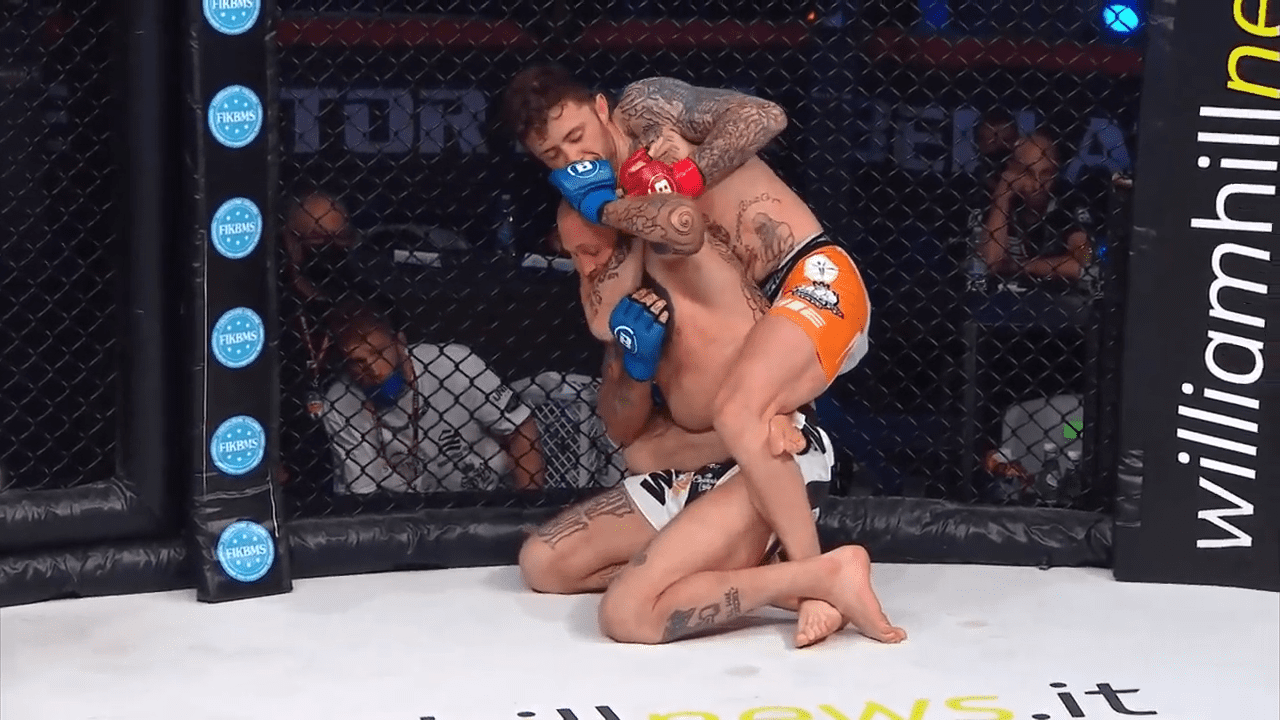 It's one more fight and another rear-naked choke win for James Gallagher.
Gallagher put a decisive stamp on his brewing rivalry with Cal Ellenor as he earned the 10th submission of his career, dominating the Englishman on the ground before sinking in the fight-ending choke towards the end of the opening round. The tap, which came with 29-seconds remaining, brings closure after the fight was postponed on several occasions in the past for a variety of reasons.
Both men said in the lead-in to the fight that their all-round skills were superior to the other but in the end, the fight followed a familiar script for 'The Strabanimal'. After brief back-and-forth shots on the feet to open the fight, Gallagher attacked with a takedown, took Ellenor's back and applied his body triangle.
🇮🇪 👏 GALLAGHER GETS THE TAP!

⁰ @StrabanimalMMA went to work on the rear-naked choke and after some great hand work secured the submission on Ellenor at the close of round 1️⃣.⁰⁰#BellatorMilan pic.twitter.com/Wq3Q5qTq3i

— Bellator Europe (@Bellator_Europe) October 3, 2020
A game Ellenor stifled Gallagher's initial attempts but with the SBG man patient, he soon slipped his elbow under Ellenor's chin. The tap came soon after. It was the first time that Ellenor has been finished in his 11-fight career, while Gallagher is now tied for third all-time in the Bellator submission list.
"I came in here the best I've ever been," Gallagher said afterwards. "I didn't talk. They say it's all talk.. it's all talk. I've had my mouth shut for months and I still came in and did it. Silence to the whole fucking division. Silence.
🗣 "Give me that belt!"@StrabanimalMMA lays down the challenge. He wants to fight for the Bellator bantamweight world championship.#BellatorMilan pic.twitter.com/zFpWtVHwCS

— Bellator Europe (@Bellator_Europe) October 3, 2020
"Them all," Gallagher shot back when asked who he wanted to fight next. "Give me anyone, everyone and a big bag of money and I'll fight any fucking one of them.
"I'm too smart. I'm too smart for them. And no one can stop me. I'm too smart, and when I want to turn it on and dog them — I can do it all. I'm just extremely proud of myself. I've worked hard. My third main event, I'm 23 years old. Everyone counts me out, but I count myself in every fucking time and that's all that matters.
"Give me that belt."
Elsewhere on the main card, Charlie Ward earned a unanimous decision win against Andy Monzolo after he dominated the latter two rounds with top control on the mat, while in the opener Kiefer Crosbie was defeated by doctor stoppage at the end of the first round in his fight with Charlie Leary. Sinead Kanvanagh, meanwhile, was victorious as she outpointed Latharina Lehner across three rounds on the prelims.
Comments
comments