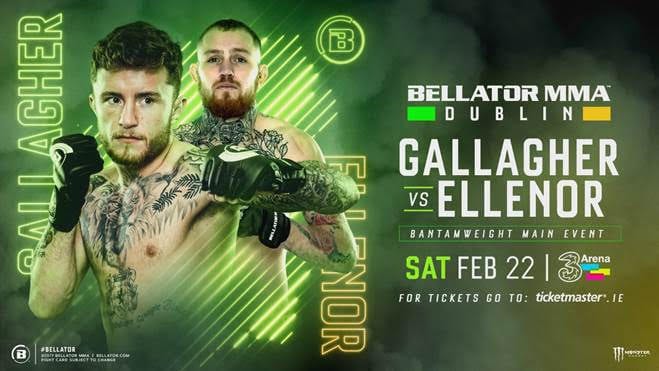 A second run at James Gallagher's previously scheduled bout with Cal Ellenor has been announced as the headliner to Bellator's return to Irish soil on February 22 next, the promotion have announced.
Gallagher (10-1) had been scheduled to face Newcastle's Ellenor (8-2) at Bellator 227 inside Dublin's 3Arena on September 27 but health concerns which became apparent during Ellenor's pre-fight medical tests meant that the Englishman was pulled from the bout, with short notice replacement Roman Salazar drafted in to replace him. Gallagher won the fight 35 seconds into the first round via rear-naked choke submission.
With those medical issues having been cleared Ellenor has resumed his status as a member of the Bellator bantamweight division and will get his chance opposite Gallagher upon the promotion's return to the Irish capital. It is understood that Ellenor was provided with an incorrect reading of a medical exam by a doctor in South Africa and has the confidence of the Mohegan Tribe Department of Athletic Regulations, the governing body which oversees the promotion's international fight cards.
View this post on Instagram
The fight represents the third Dublin main event inside the span of 12 months for Gallagher. Ominously for Ellenor, each of those fights has ended in a first-round submission win for the SBG Ireland fighter.
In addition to the Gallagher vs. Ellenor headliner, Bellator also announced an Anglo-Irish clash between SBG's Philip Mulpeter and Daniel Crawford, while Ryan Roddy faces Chris Duncan and Karl Moore faces London Shootfighters' Arunas Andriukevicus.
Further names will be added to the card in the coming days and weeks, the majority of which are expected to be fighters from the Irish and UK MMA scene. Tickets will be on sale from November 29.
Comments
comments