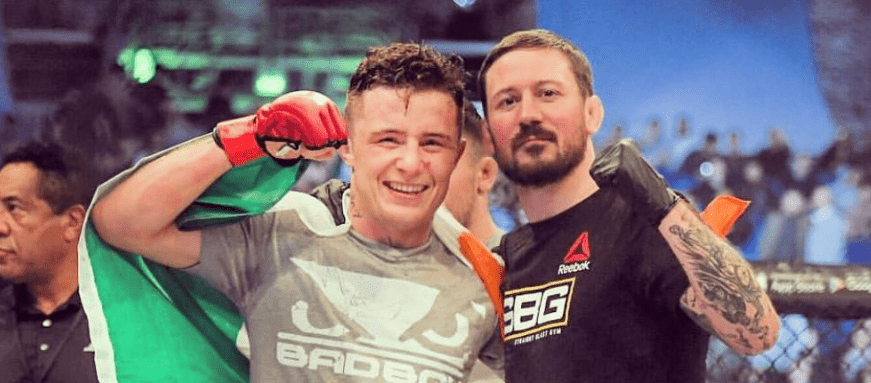 Fresh from his first round submission victory against Chinzo Machida inside Madison Square Garden a month ago, James Gallagher will return a little closer to home for his next bout after Bellator confirmed Gallagher will appear at the promotion's next Dublin event on November 10th.
It is expected that Gallagher will make his bantamweight debut on the show having amassed a 7-0 record (4-0 Bellator) through his young career. An opponent has not yet been named but speaking to MMAFighting at the recent BAMMA event in Dublin's 3 Arena, Gallagher said that he has his eyes firmly fixed on establishing his title credentials as quickly as possible.
"I'm going to 135 because I want the belt," Gallagher said. "I'll have a few fights there. I expect it to be pretty easy. I feel like I can wipe them all out and then go back up to featherweight and take that belt."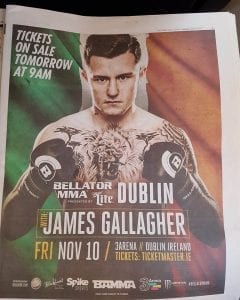 The 20-year-old Strabane native says he won't face a particularly tough weight cut to get to 135-pounds, so he says he expects to be able to assert dominance over both the featherweight and bantamweight divisions.
"I really don't feel like it matters what weight I fight at. I feel like I'm going to beat them all. It's all about skill set for me, size doesn't matter one bit.
"This is purely a move to get belts. I know I can fight at featherweight. I've fought as high as lightweight. I fought Matt Mullen at lightweight, he was coming down from welterweight at the time. I have never been overpowered, so the weight doesn't matter to me. The belts do, though."
The November 10th event will once again be co-promoted with BAMMA and tickets will go on sale on Wednesday 19th June.
Comments
comments