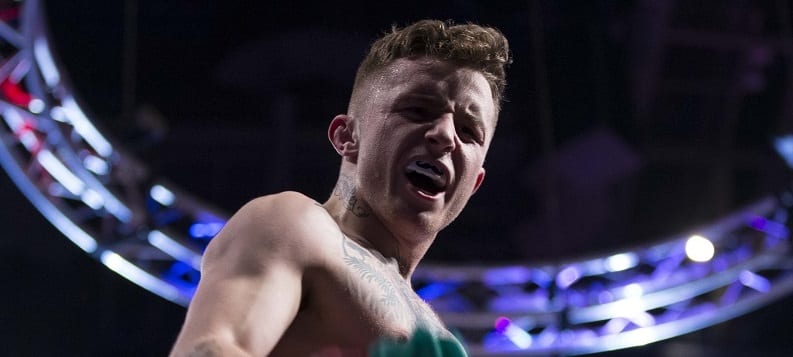 It seems written in the stars that two of Bellator's most exciting young fighters at 145-pounds, James Gallagher and AJ McKee, will one day face each other.
Gallagher will return to Dublin on November 10th for his first official Bellator main event where it was announced yesterday that he will face Jeremiah Labiano but the 'Strabanimal' insists that his rival McKee wasn't so keen on facing the surging contender in front of his countrymen.
The SBG product was named as being one half of the main event over a month ago and, despite McKee going on the record in May that he would seize any opportunity to fight him in Dublin, Gallagher says that McKee's silence in the last month was deafening.
Speaking to Metro.co.uk, Gallagher said: "I just got Jeremiah, that's the first and only person I got," referring the bout agreement he received from Bellator.
"If he really wanted to fucking fight me then why not push to get me on this? I haven't heard a thing from him. Not online, not nothing. This Dublin fight has been announced for about a month now and not once you heard him say 'Give me James Gallagher in Dublin'.
"But a few months ago when nothing was announced in London he was saying 'I'll fight James in Ireland, I'll fight James in Ireland! But when it actually comes down to it, he doesn't want it. He just talks. 'The rivalry that he's trying to make is fake. Fake as fucking him."
The 20-year-old Gallagher has emerged as one of the Bellator's brightest stars since signing with the promotion before the summer of 2016 and has four successive wins (incl. three finishes) under their banner, the most recent of which was a faultless performance at Madison Square Garden against Chinzo Machida in June.
With his first official main event now set for Dublin three months from today, Gallagher's star-power isn't showing any signs of slowing down.
Comments
comments