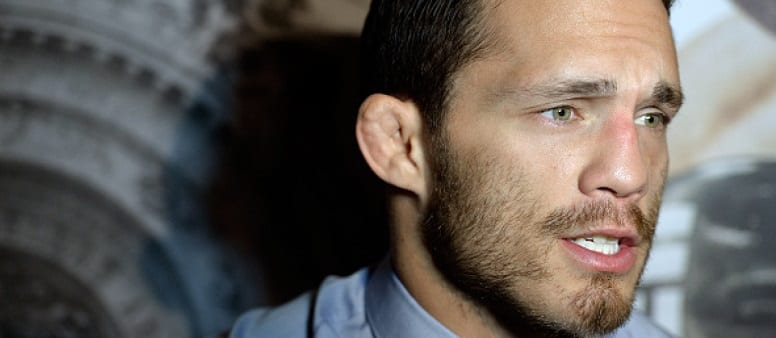 Jake Ellenberger says he, and not anyone else, gets to decide when he retires from mixed martial arts. 
The UFC welterweight, who has posted a record of two wins against seven defeats in his last nine bouts, suffered one of the year's most vicious KO's so far at the hands (or elbow, more appropriately) of Mike Perry at UFC Fight Night 108 in Nashville last month but even with his recent downturn in form which has seen his lose by knockout in three of his last five fights, Ellenberger maintains he won't be walking away from mixed martial arts anytime soon.
Speaking to MMAJunkie Radio (as reported by MMA Mania), Ellenberger says he will know when to call it quits but right now his problem is replicating his form in the gym under the bright lights of the UFC.
"I think I have a good idea when I'm going to be done, and I think that's a big part of the exit strategy", Ellenberger says. "If I'm struggling or not doing well in the gym, that's an easy sign to the door. But when I'm beating everybody in the gym – everything's going right right now. Everything's clicking.
"What happened with Perry happened. But I haven't missed a step. I'm not slowing down. I'm pretty cerebral. I had a great strategy. It's one of those things – things were going very well for me, so it's easy to say I'm not done."
'The Juggernaut' was once considered one of the top fighters at 170-pounds and holds victories over Jake Shields, Nate Marquardt and, last summer, Matt Brown but his recent efforts have seen the Nebraskan slip out of the top 15 rankings at welterweight.
Following the loss to Perry last month, Anthony Johnson (himself recently retired) called for more fighters to realise when the time is right to hang up their gloves and while he didn't mention him by name, Ellenberger's statement suggests that Johnson's words were heard loud and clear.
Comments
comments