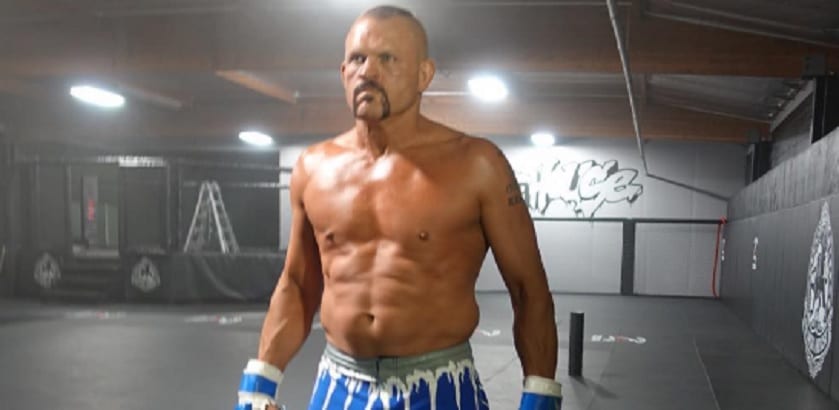 Despite turning 47-years-old last December, Chuck Liddell's longtime coach John Hackleman isn't ruling out a return to the cage for 'The Iceman'.
A recent clip posted to Instagram showed that Liddell, the former UFC light heavyweight champion and unquestionably one of the biggest stars to ever compete in MMA, still throws elbows from hell and a picture posted on Liddell's own account last week showed him adorned in his trademark fight gear, as well as clearly being in tremendous shape.
Speaking on the Anik and Florian podcast (as reported by MMAFighting) John Hackleman, who served as Liddell's head coach throughout the majority of his fight career, said that while nothing has yet been offered he would be open to training the UFC hall of famer once again but it would "depend on the opponent."
"Just like when they first wanted him to quit and he wanted to keep fighting, everybody was thinking I was trying to push him to keep fighting, which isn't true. But like I always said, it's whatever is in his heart. 3 million bucks? Who is gonna tell someone, 'No. I'm not gonna allow you to make $3 million, which is more than most people make in three lifetimes.'
"It would all depend upon – this sounds so bad. Seriously, the people who know me know what a terrible mother hen I am when it comes to matching my fighters, but it would depend on the match. It would all depend on the match. I'm not gonna name who I would let him fight – well, it's not up to me to let him fight or not – but who I would okay and who I wouldn't."
Liddell was the UFC's biggest star throughout his reign as the dominant fighter at 205-pounds between 2005 and 2007. His celebrity persevered throughout the latter years of his career, though his performances began to suffer as he lost five of his last six bouts in the UFC — including successive knockouts suffered against Rashad Evans, Mauricio 'Shogun' Rua and Rich Franklin.
After opting to end his fight career, Liddell's services were retained by the UFC as their Executive Vice President of Business Development, though he was let go from that role last December after six years in the position.
It is unclear if Liddell is still contractually tied to the UFC with regard to promoting any future bouts he may take, though UFC president Dana White has stated on numerous occasions that he wouldn't consider booking Liddell for a comeback fight. White, a friend of Liddell's, also served as the fighter's manager early in his career.
If Liddell is indeed contractually free to sign for another organisation the most likely fit would be Bellator, though that is just speculation at this point. However, given Bellator's recent history of promoting bouts with veterans Royce Gracie, Ken Shamrock and Kimbo Slice — as well as Liddell's proven status as a box office attraction — the shoe seems to fit.
The only caveat, Hackleman says, is that if Liddell is to return it must be against an opponent of commensurate skill.
"But even $3 million, I don't think that would be enough to put his life at risk and his legacy at risk. Because his legacy, not only for his own self-esteem but his legacy for his future earnings as well, could be worth a hell of a lot more than $3 million and tarnishing it to a certain degree, that might not be worth it. So it would all depend on the opponent."
Comments
comments