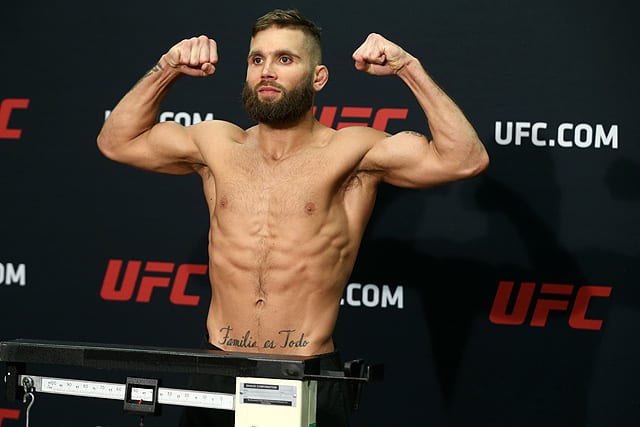 Jeremy Stephens and Yair Rodriguez have unfinished business. 
Their UFC Mexico City main event last weekend was ended after just 15-seconds after Stephens was deemed unable to continue after an accidental eye-poke from the Mexican featherweight and after angry fans rained rubbish into the cage, Rodriguez nearly slugging Michael Bisping in the middle of the octagon and rumours of a post-fight dust up in the hotel afterwards, it seems that Stephens and Yair won't be near each others' Christmas Card list this year.
But Stephens doesn't think that that 'Pantera' wants anything to do with him.
"I guarantee you the kid doesn't want it," he told MMA Fighting. "My bet money is that he doesn't accept the fight, he bitches out and runs. That's what he does. You saw how he acted after the win. He's celebrating like he won over an eye poke. Who does that? The kid was nervous all week. I was up in his head, I'm still in his head, and he can either accept the fight or get the fuck out of my way."
View this post on Instagram
Rodriguez was briefly cut from the UFC after it was determined by the organisation's hierarchy that he turned down a fight against Zabit Magomedsharipov — a fight which was eventually taken by Stephens.
"These are facts. I've never been cut from the UFC for not taking fights. I took a fight when he wouldn't take it. Who's the bitch and who's speaking real facts here? I pushed the kid and he didn't do shit.
"People duck and dodge me all the time. Brian Ortega has ducked me four or five times. These guys don't want to fight me. They have to fight me. It's either Yair, or I have nothing attached to that and we move on. Either we fight or you shut the fuck up, and I continue to move forward."
Comments
comments