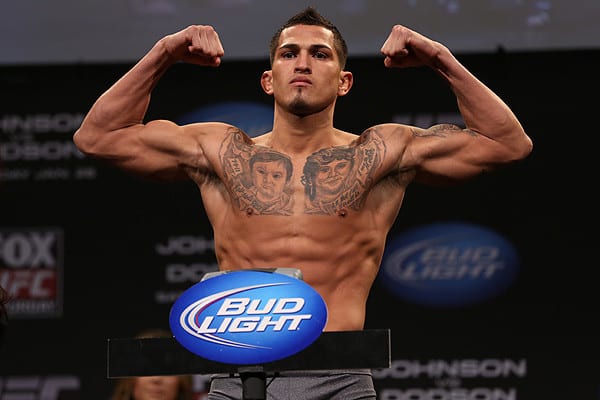 Anthony Pettis has seen it all in his 13-year professional mixed martial arts career.
The former UFC lightweight champion has been on both ends of highlight reel finishes, has won a world title and now, at the age of 33, is set for the latest chapter of his career in the Professional Fighters League (PFL).
But despite wins in his last two outings for the UFC, Pettis has become the latest big name fighter to sever ties with the organisation and as he detailed to MMA Junkie, he is happy to become a wanted man in his new home.
"There's a couple reasons behind the PFL deal," Pettis said. "My little brother (Sergio) at Bellator, seeing him go over there, I like that he has his own home. I feel like he kind of had an identity by me (in the UFC). He was Anthony Pettis' little brother and he was fighting these tough fights and these guys were coming at him hard. Now he's in Bellator and he's one fight away from becoming a world champion. I'm really happy where he's at."
View this post on Instagram
And such is Pettis' reputation in his new home, he says that fighters will want to make their names off of him.
"I've got to start at a new job (and prove myself)," Pettis said. "Everything I've done in my past, we all know in the fight world, you're only as good as your last fight. Going into a new organization and having that target on my back. I know these guys are looking at me like – when I was fighting in the UFC, I fought the best version of every fighter. When they heard my name they were like, 'Oh, I'm fighting Anthony Pettis.'
"They were the best version of themselves, so they know what a fight against me does for them. I think the same thing for the PFL. I've got a target on my back. I've already seen it. When I announce the signing a lot of their fighter were like, 'I look forward to meeting you in the octagon.' I'm excited about a new journey, a whole new path of my career and a new chapter."
Comments
comments