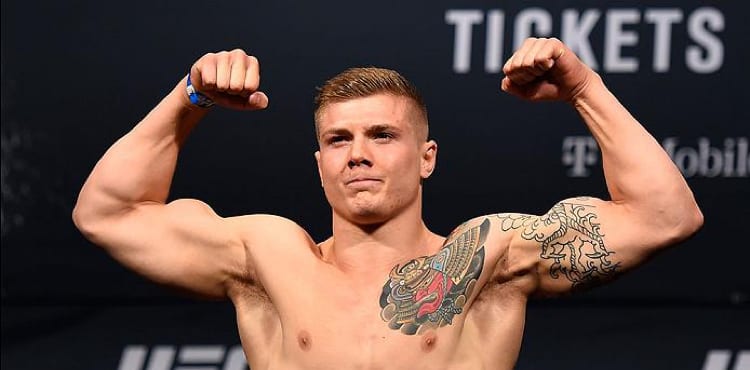 Amid the ever-worsening coronavirus pandemic which has laid waste to the global sporting calendar in recent weeks, Italian middleweight Marvin Vettori has expressed his disappointment at his scheduled UFC London bout last weekend falling apart at the last minute.
Despite numerous efforts to the contrary, UK government restrictions forced the cancellation of the card in the English capital and denied Vettori — who was scheduled to fight England's Darren Stewart — the opportunity to compete. This, the Italian fighter says, was a blow to both him and the legions of MMA fans in Italy who he said had contacted him to say how much they were anticipating his fight in the midst of trying times across his homeland.
Italy is currently the worst affected region in Europe from the coronavirus pandemic with nearly 60,000 infections record and nearly 5,500 deaths as of Monday afternoon.
"I flew out, got a workout in, went to sleep, and at 3 a.m. my nutritionist wakes me up and says, '[President Donald] Trump just put up a travel ban and [UFC President] Dana [White] released a video saying UFC London is moved to the U.S.,' so the fight is basically off here," Vettori told MMA Fighting of the late cancellation of his fight.
He subsequently travelled to the United States in the hope that his fight could take place at an alternate venue as UFC officials attempted to keep their show on the road — literally.
"I wake up in the morning, I go to train," he said of his arrival in the US. "Then I see all these guys are being a bunch of crybabies like Tyron Woodley turning down fights – 'Oh, I want to fight' – but he's turning down fights all over the place. Leon Edwards – 'Oh I got this, I got that, I can't go.' A whole bunch of that. I see the UFC trying to make up the card, trying to look for fights. I was hoping. I was hoping somehow it happens, but there was a high level of uncertainty. I come out from my morning session, and I see the news where the fight is off and it's not going to happen; all the events are shifted back.
"It's f*cking frustrating for sure," Vettori added. "Everybody was messaging me from Italy — 'the only good thing is watching you fight' — and it would have been great to send a message of resiliency and getting my hand raised for all the Italians in the struggle. But that didn't happen."
Comments
comments