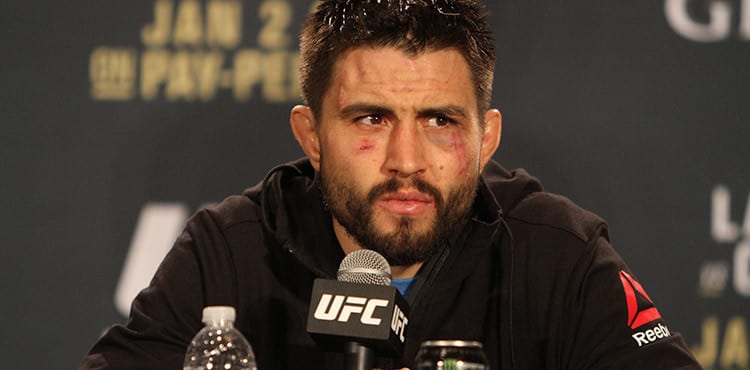 'The Natural Born Killer' Carlos Condit has elaborated on his recent decision to hang up his 4oz gloves.
The former UFC interim welterweight champion, who scored an incredible 28 finishes in his 32 career wins, made the call after losing his last fight by decision to Max Griffin — which came after Condit had wracked up successive wins against Court McGee and Matt Brown — and as he told Ariel Helwani on the MMA Hour, he has no regrets whatsoever about how his fight career panned out.
"It was time, man," Condit said of his decision. "It was time. For a lot of different reasons. After that last fight, I felt like I put together a good camp and I was just a step behind Max. I feel like I could really try to tweak things and I could try to figure out what's missing, what part of the formula isn't working right now and then go and test it again and test it again, but that's a tough thing to do. That's a tough thing to do because ultimately I have to go and put myself on the firing line to see if what I'm doing is working.
"At a certain point there's diminishing returns, so I think it's time to move on."
Condit says that the loss to Griffin felt different to other setbacks in his career, and it was something which confirmed to him that it was time to step away.
"I'd been leaving a hotel room after a loss and been p*ssed off and leaving all my gear in a real salty mood and basically, 'I'm done with this s*it,'" Condit said. "But this time was different. I wasn't salty about it, I just felt like it was the right move. Probably about three weeks or a month ago I called Dana and I let him know, so this thing has been coming down the pipe for a little while."
Condit, though, will go down as one of the welterweight division's most exciting fighters as shown by his impressive finish rate and he says that even in a sport with as many ups and downs as MMA, he is happy with what he displayed throughout his career.
"I've loved every f*cking second of it," he said. "The ups, the downs, all of it. If I had to pick a specific one, these last two fights that I won when we were out in Abu Dhabi and really just living in this surreal atmosphere. My coaches are all my really good friends and we had the opportunity to go to this crazy nice place and fight. That was a lot of fun. But I have 19, almost 20 years worth of memories so it would be really hard to pinpoint.
"I stepped out there and I loved to fight, I love what I do, and I hoped every single time to go out there and put that on display. I love every second of this.'
Comments
comments