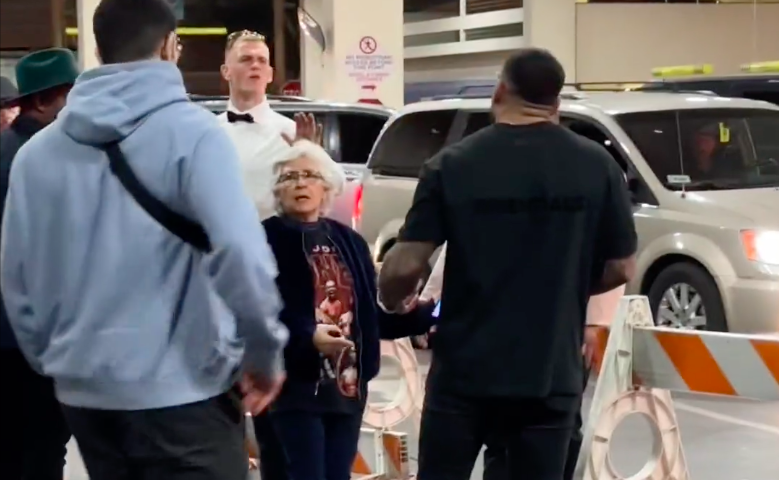 One UFC fan looks to have had a pretty fortunate escape shortly after last Saturday night's UFC 285 in Las Vegas.
Garry, who upped his career record to an impressive 11-0 with a third-round finish of Chinese fighter Song Kenan on the card which was topped by Jon Jones' return as a championship-winning fighter, was recorded after the event in a confrontation with an aggressive fan who took some sort of umbrage against the Irishman.
The situation didn't descend into anything physical — but as Garry explained to Ariel Helwani on Monday's edition of The MMA Hour, the fan in question clearly had no idea of who he was quarrelling with.
"I'm sitting there with my whole team. I'm sitting there with about eight or nine people, and [a well-known elderly UFC fan] came up to me and was like, 'Hey, Ian! Can I have a photo?' Of course you can. So we start talking and she's chatting … and while I'm chatting with her, I just hear this guy shouting and screaming, coming through where all the cars were.
I was hugging Ian when he was bumped into by the man. Ian thought I was also hit since we were close together and called him out. Video starts here: The man wants to fight Ian and I am in the middle asking "does he know who he is?"pic.twitter.com/CVVpJ3vrkg

— Nelly (@GrandmaKhabib) March 6, 2023
"[He said], 'Bro, that's the easiest f*cking [$50,000] I've ever made in my life! I'm f*cking awesome!' He's just screaming and shouting, and I don't know if he's off his face or what he's doing, but then he just bumped into me. And I just turned around to him and went, 'Hey, relax.' And he goes, 'Or what?!' I just start laughing and looking at him like, 'Sorry?'
'Or what?! I'm a fighter. I do this sh*t!'", Garry added of what the aggressive fan said.  "[I said], 'Oh really? Really? You do this sh*t?' He's like, 'Yeah, you don't want any of this smoke!' And then his fat little mate just stood there in his f*cking pink blazer going, 'Yeah, you don't want any of this,' and I'm like, 'Ha!'
"I've never been in a fight outside the octagon because I'm too smart, but it took everything in me, with the way he was eyeballing me, not to go at him," Garry added. "It was like he wanted to kill me the way he looked at me, and I was like, I'm going to put you unconscious if you take one step forward. One step forward or say one more word, I'm going to end you. But I had to keep my cool."
Garry, 25, also stated that he is told UFC officials he would like to be added to the UFC 287 card in Miami on April 9. Garry lives and trains in the Sunshine State.
Comments
comments