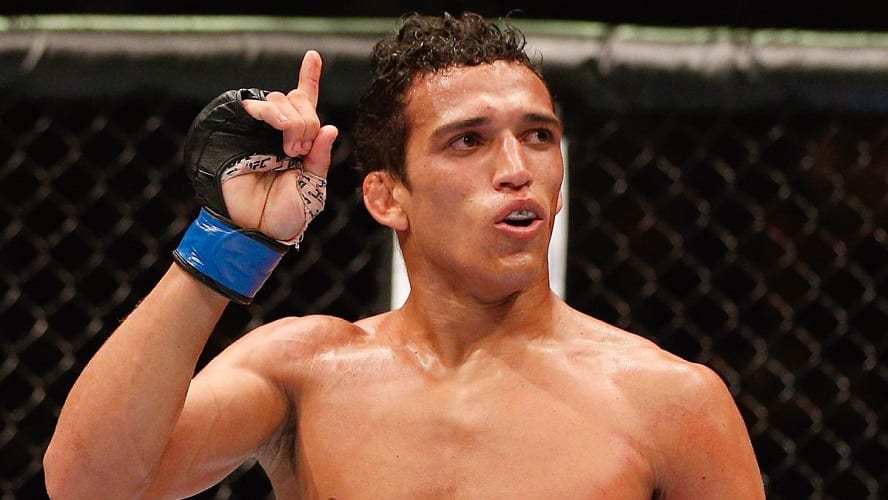 Don't expect to see Charles Oliveira on Nate Diaz's list of upcoming opponents after the Brazilian's coach snubbed Diaz's proposal for a fight, instead focusing on claiming gold in the UFC's lightweight fold.
Oliveira has positioned himself towards the top of the 155-pound rankings owing to a sequence of eight straight wins in the lightweight division, the last two of which were high profile wins against Kevin Lee and Tony Ferguson.
The nature of those performances obviously blipped on Diaz's radar, with the Stockton native citing Oliveira as a potential upcoming opponent in an interview with ESPN this week. But according to Oliveira's coach Diego Lima, his fighter has other plans entirely.
"To be honest, it is a fight that theoretically makes no sense to us," Lima said to AG Fight via BJPenn.com. "Nate is not active, much less ranked. It is a fight that would only happen for financial reasons. But even so, I don't think it would be beneficial for us at this point.
"We know that McGregor sells a lot. Really who he faces sells well. Nate is not at that level. Our goal is the belt. Even if it is very financially worthwhile, today I do not see this struggle adding to Charles' career. The goal is only one, the lightweight title."
The future of the UFC's 155-pound title remains very much in the balance, amid uncertainty as to the future of current champ Khabib Nurmagomedov. However, all signs point to there being a decision made sooner rather than later which will impact the future of the division — and Lima and Oliveira are very much positioning themselves to be in that conversation.
Comments
comments