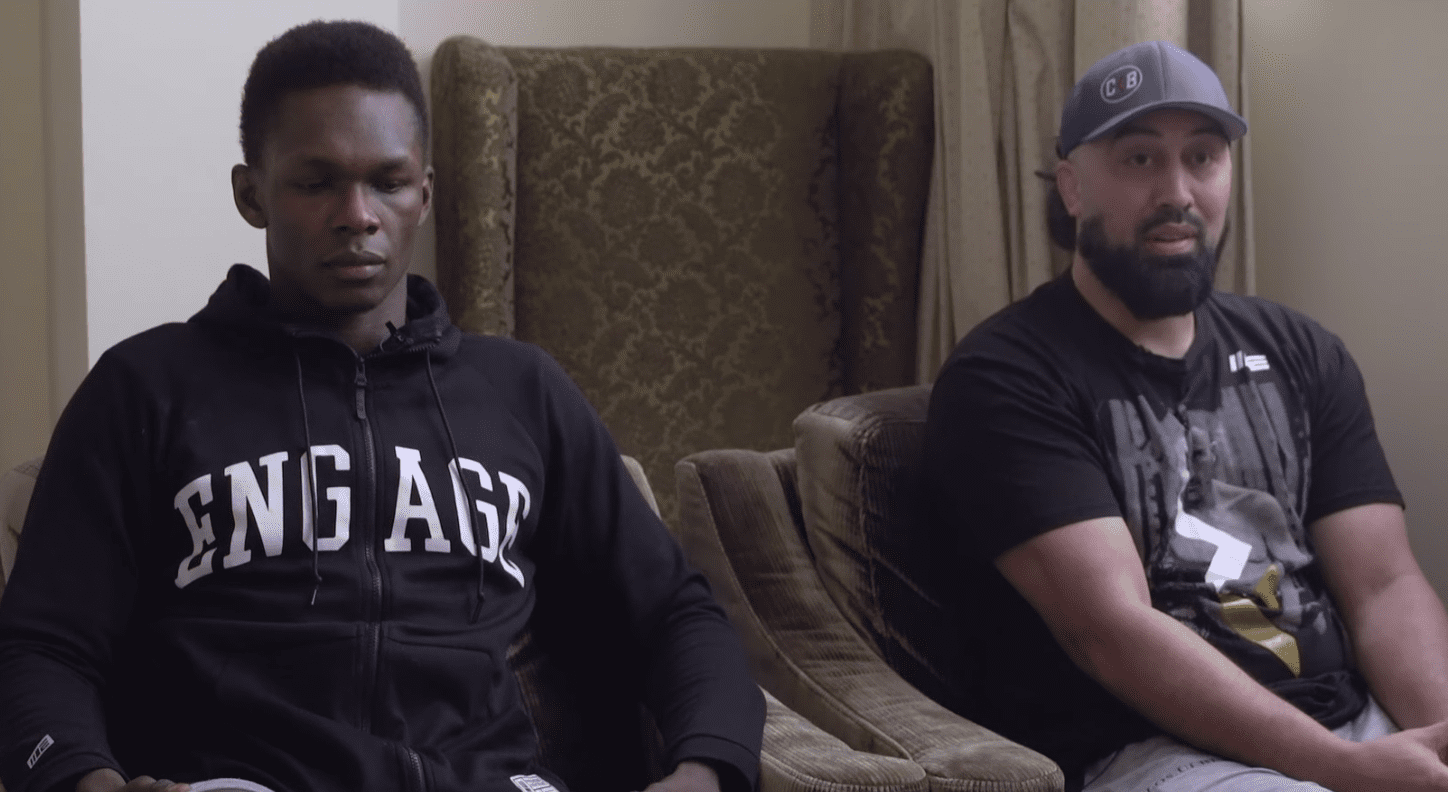 While Jon Jones and Israel Adesanya seem set on a collision course, despite being champions in different divisions, Adesanya's coach Eugene Bareman says he's less interested in the contest than some may think.
That's not because he doesn't fancy Adesanya's chances or anything, it's just Bareman doesn't like the idea of his fighter being linked to and having to deal with a man who's had the controversies that Jones has had over the course of his career.
Speaking with Submission Radio, Bareman spoke at length about the potential fight, and why he has reservations about letting Adesanya face Jones in the Octagon.
"That would be a hard fight for my team, the group of guys that get together and decide who Israel fights, that would be a very hard fight for us to get across the line," Bareman said. "Because we're just like, why? There's ethical and moral issues that don't sit well with my team, and they would be very reluctant to give a man like him the sort of opportunity that Israel can bestow on him. We have a track record of not fighting certain opponents even though they make sense. And I'm not talking about in the UFC, I'm talking about locally, because they're just not good people. And Israel can want to fight him and have all the desire in the world to fight him that he wants, but it's not his decision. It's not solely his decision. So, if my team decides that… it would just be hard for me to look at my team and ask them, should we give Jon Jones this opportunity considering the type of person he is?"
Instead, if a superfight has to happen to keep fans or the UFC happen, Bareman would rather see Adesanya risk it all and fight at heavyweight against Stipe Miocic instead. According to Bareman, it would be a better fit for his team, as they simply don't operate in the same way as Jones' team at JacksonWink.
"You guys asked me what's the biggest fight? And I said Stipe Miocic. But because my inclination is to avoid someone like Jon Jones. Not because Israel can't beat Jon Jones, it's just because my team's just different to that team. Like, that team… we're just different," Bareman said. "Like, we don't vibe with that type of person, we don't vibe with that sort of behavior. Like, my team's just in a different place ethically and morally. You know, like, it just wouldn't happen. We just don't want to mess with that. Israel might want to and he might feel a little bit differently, but for me and my team, my group of coaches, my fighters, we just want nothing to do with anybody like that. That's just where we're at.
"Let me explain this. Like, we're different camps. If Israel goes and does some of the things that Jon Jones does, he can no longer, he's not going to be a part of my gym. Doesn't matter how much money he makes, he will have to leave my gym, because he'll just be a shit human being. And you can't do that. You can't be that person at my gym. Like, and I'm not… their setup's different. Their setup's different, and obviously they treat things and they treat people differently.
"But, like, I'm just giving an example from my gym and I'm using Israel figuratively. If Israel does those sort of things, he has to leave the gym. And maybe he doesn't leave the gym, but then me and the 30 other guys on the fight team, we take him out the back and we bash the shit out of him, you know, we give him some tough love. And, we say, you know, it's just different, it's a completely different team. They set it up and they run it how they want to run it and all power to them, and me and my team, we do things our way. And yeah, that's the key difference. I'm not saying anything about their team. They've been one of the best teams, still are one of the best teams in the world and they will remain to be that, it's just a way different setup to my setup, that's all I'm saying.
"Jon Jones a hundred percent needs Israel. Israel does not need Jon Jones at all. Israel is baiting Jon Jones at every corner, and Jon Jones just keeps biting because Jon Jones knows he needs Israel. Let's not talk about Jon Jones, let's talk about Stipe. If we have to talk about this superfight, let's talk about Stipe. Let's talk about Israel going up. Has anybody gone up and won two titles but skipped a division? Well, there you go. There's a bit of history. Jon Jones so far has not been willing to go to heavyweight, he's been reluctant to go to heavyweight? Am I correct? Well, Israel wouldn't be reluctant to go to heavyweight. Israel would go to heavyweight and he would fight Stipe Miocic. There you go.
"We'll take that fight, Jon Jones. If you don't want to take it, you can hang around at light heavyweight. We'll skip light heavyweight and we'll take that fight off you. There's some more bait there so Jon Jones can bite on it and start doing what he does, like what these guys do. But we'll take the fight. Don't worry about it, Jon Jones. Let's stop talking about Jon Jones, let's talk about Stipe. We've got a bit to do. We've got Paulo Costa, we've got other things. But yeah, let's talk about that. Let's stop talking about Jon Jones and the big match-up. There's bigger match-ups than Jon Jones. How about a guy going up two weight divisions to claim another title."
Comments
comments