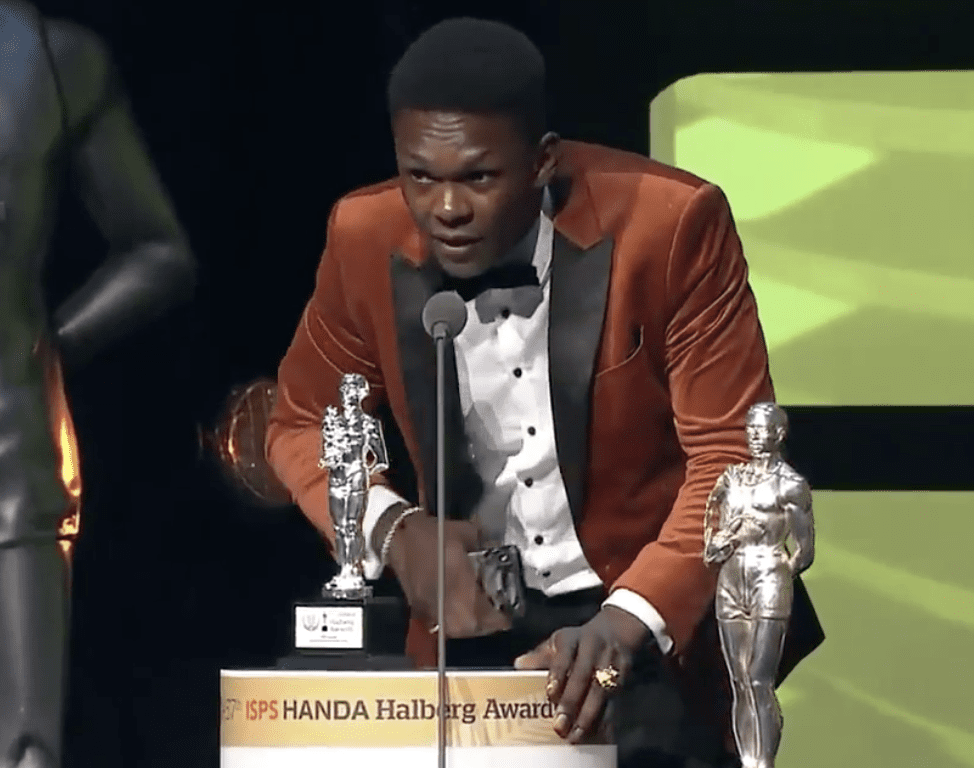 Last night, Israel Adesanya was crowned Sportsman of the Year at the 2020 Halberg awards in New Zealand.
The result comes after a blistering 2019 in which the New Zealander-Nigerian won the UFC middleweight title, and firmly stamped himself on the mixed martial arts scene as one to watch.
During his ceremony speech at the Halberg's — a set of awards recognising sporting greatness in New Zealand — Adesanya made sure to first pay tribute to the Kiwis who came before him.
"It's the first time combat athletes have been nominated so you know, I have to do this for the old, the combat athletes of old. Rest in Peace Jimmy Thunder, David Tua, Doug Viney sitting right there, Ray Sefo, Joseph Parker, and now Israel Adesanya," Adesanya said.
"Kiwis, we love a good one out. We love a good fight. This is part of the culture. Straight up. We're a country of a warrior race, the Maori. This is part of our culture. If a fight broke out right now, what would you all do? You'd ignore me and you'd watch the fight. It's in our DNA. We've been doing this for so long, you guys have no idea."
From there, Adesanya had one major point to make to his fellow countrymen, pointing out the nation has a habit of finding negativity in and attacking those who find success in whatever walk of life, labelling it 'tall poppy syndrome'.
"We have this culture of tall poppy syndrome, which is messed up. Coming up in this country, I've seen it so many times," Adesanya said. "When you see somebody rising you want to tear them down because you feel inadequate and you want to call it humble. I am extraordinarily humble, believe me, but you'll never know that because you never get to know me. Understand this, if you see one of us shining, whether it be the netball team, the Black Caps, the Sailors, pump them up! Embrace them! Because if they win, we win, if I win, you win! Understand that."
Check out the full speech here:
✅ An iconic speech from a new Kiwi sporting icon 👑🥊

"Welcome to the party!" New Zealand Sportsman of the Year winner @stylebender's Halberg acceptance speech will go down in history. Just watch. #ISPSHandaHalbergAwards

⚠️ Some language may offend pic.twitter.com/fnyCLfgX68

— Sky Sport NZ (@skysportnz) February 13, 2020
–
Comments
comments