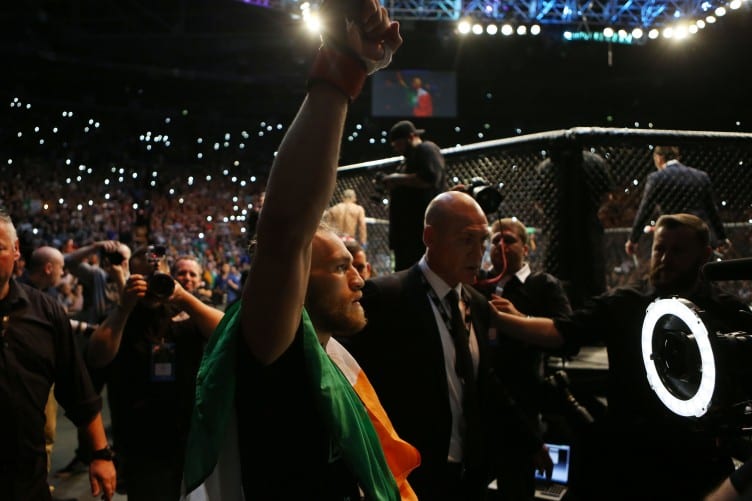 The UFC will make its return to Ireland's capital in August, the promotion announced Thursday afternoon in a press release.
The event will take place on August 15  in the 3 Arena and it will be the promotion's first event in Dublin since an October 2015 event headlined by Paddy Holohan and Louis Smolka and just the fourth event held by the UFC in the Republic of Ireland. Tickets will go on general sale on Friday, June 26.
No fights have yet been announced for the card.
"We kicked off the year with a phenomenal comeback from Conor McGregor at UFC 246, and now we are thrilled to announce our return to Ireland after four-years," UFC Senior Vice President, International and Content, David Shaw, said.
"With Irish fans amongst the most passionate UFC supporters in the world, and Dublin being such an iconic global city, we can't wait to put on another world class event for our fans there."
It's happening!! We're back at #UFCDublin on August 15th!! 🇮🇪

Register for tickets ➡️ https://t.co/RzBlLGmk3o pic.twitter.com/k24PMiY0zA

— UFC Europe (@UFCEurope) February 13, 2020
It's official, @ufc is going back to Dublin ☘️

It's been far too long, so let's celebrate by looking back on when @TheNotoriousMMA had the place absolutely rocking…

Listen to that noise! Some of the most passionate fight fans in the world 👊 pic.twitter.com/VHviXZqXMV

— UFC on BT Sport (@btsportufc) February 13, 2020
The UFC's last scheduled event in Dublin, which took place in October 2015, was unfortunately beset by injuries which prompted the last-minute change to the Holohan vs. Smolka headliner. The original main event fight between Joe Duffy and Dustin Poirier was cancelled at the eleventh hour owing to an injury sustained by Duffy in training, while a high profile heavyweight clash between Stipe Miocic and Ben Rothwell was also nixed from the card for similar reasons.
The card before that, in July 2014, was undoubtedly the most memorable ever held by the UFC on Irish shores. Headlined by Conor McGregor against Diego Brandao in what was the Dubliner's return from a multi-month layoff from an injury sustained in his win against Max Holloway the year prior, McGregor's status as a superstar was was set in stone by a thumping first round finish as well as the hero's welcome that he received from the crowd in his hometown arena.
It was a famous night for Irish mixed martial arts. Each fighter, from McGregor to Pendred to Seery to Holohan to Parke and even adopted Irishman Gunnar Nelson proved successful on that occasion in a concerted effort which prompted McGregor's now infamous "We're not here to take part, we're here to take over" maxim.
The first ever UFC event in Dublin, UFC 93, took place in January 2009. The event was headlined by Rich Franklin's decision win against Dan Henderson in a card which also featured the likes of Mauricio 'Shogun' Rua and Mark Coleman.
The UFC has also held two events in Northern Ireland. UFC 72 was headlined again by Franklin who beat Yushi Okami in the main event, while Gegard Mousasi vs. Uriah Hall II was the featured bout for the second Belfast card in 2016.
The appetite for another UFC event in Dublin is a ravenous one from fight fans in this region, and all eyes will now be trained on the fight announcements which will trickle out in the next weeks and months.
Comments
comments