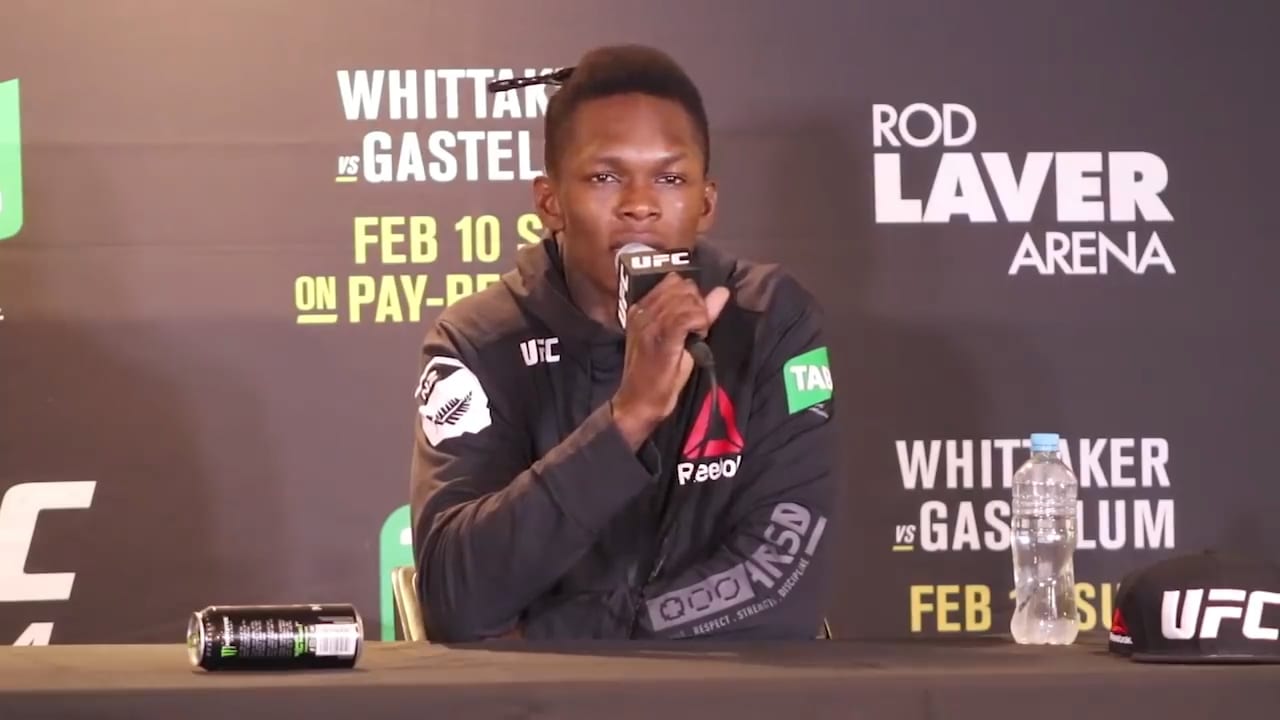 Israel Adesanya is aware of the middleweight names people want to see him fight, and he's not trying to have records get in the way of those exact contests.
Case in point, the new champion's desire to fight Yoel Romero, who's lost 3 of his last four fights, albeit by close decisions. Despite that streak, Adesanya believes Romero's reputation and all round terrifying nature should be enough to give the 42 year old Cuban a shot at the title.
"I said I want Yoel," Adesanya said, speaking on the Joe Rogan Experience. "Fuck records, he's a great fighter. I want to beat all the greatest of this era. I've taken Whittaker, I've taken Gastelum, I've taken Silva… So hopefully, [he's next]. Dana's the one. I don't know what his manager is telling him. I've said I want to fight him. I've never backed down. I'll see you soon, boy."
While UFC president Dana White appears to be coming around on the idea, there are other names that Adesanya's been linked with. Recent middleweight debutant and friendly face, Darren Till, for instance.
"I saw him last year at the press conference leading up to the [Derek] Brunson fight, and I said, 'I can't wait until we do it man, one day we'll clash'," Adesanya said. "And it's just because of the styles. Styles make fights. He's got a style that I like. Very basic, but when I say that I don't mean it with disrespect. He's got strong basics. He's a southpaw. He's got a nice straight left, a nice body kick. Curves the left. He knows how to change it up. And in the clinch as well, I like what he did with Gastelum. He played the distance game well."
But if Romero's next and Till's in the near future, there's still the one name that Adesanya can't seem to escape (not that he's trying to).
UFC light heavyweight champion Jon Jones has consistently fired shots at Adesanya over the past year, apparently finding something with the 185 champion that irritates him. While Jones clearly wants to goad Adesanya in moving up in weight for a superfight, Adesanya says they're working on his schedule, not Jones'.
"He will face me eventually but I'm going to respect the game," Adesanya said. "I'm going to do what got me to the dance which is honor the game and defend my belt. I mean, he didn't jump up to heavyweight right after he won the belt. Fuck, you know? I want to do the work. If he wants to come down, come see me boy. If not, shut the fuck up and wait 'til I come see you.
"We'll fight when we fight and I'll see you when I see you. I don't care [if he loses], we'll still fight at the end of the day. I'm not going to move too fast because I've always had a plan and I never deviate from the plan. I'll stick to my guns."
–
Comments
comments