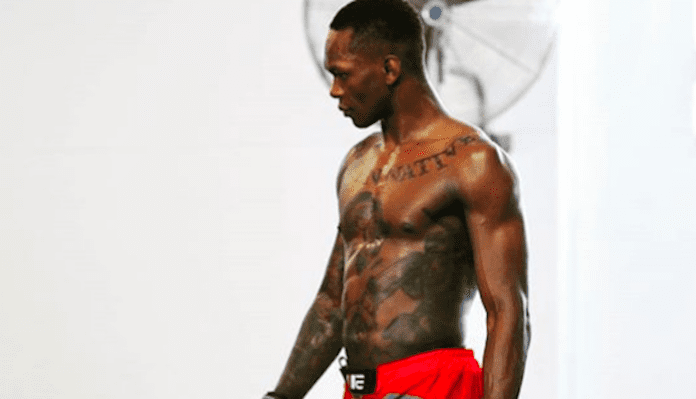 Post fight at UFC 230, UFC president Dana White made it very clear he sees big things in the future for middleweight Israel Adesanya. Luckily for him, Adesanya sees those big things too.
Over the past few weeks, Adesanya has seen a huge rise in his popularity, no doubt in part to his demolition job of Derek Brunson in New York. And, in what is a sure fire sign of the UFC bosses taking an interest, he even got his own one on one meeting with White to talk shop.
According to Adesanya, who spoke to Submission Radio, the middleweight had to correct White about a few things — namely about who he should fight next time out.
"He already had his plans, and that's why I had to go sit in front of him, because I had my own plans, I had my own thoughts on what I want to do," Adesanya said. "So, when I sit in front of someone, you can feel me, you can really understand what I'm saying, you can feel my passion. So, it's different than doing it over the phone. Yeah, he's on board with my plan now and he likes it. I sold him the idea. You guys wait till everything comes to fruition. If the other guy says yes – I should say when he says yes – I don't know, but I feel like when he says yes, it's gonna be historic, it's gonna be something that you guys are gonna buzz over it. And then later on, what I have planned after that, that's gonna be sick as well. So yeah, in due time everything will unfold."
"We had the same opponent in mind but just he had a different plan of action. So, as soon as I sold him my one, he was like, 'yup. I like that. I love it. Let's go'. So, it's different when I'm in front of you. Like, I'm not here to just fuck around, I'm not here to just beat around the bush, I say what I say and I do what I do. So yeah, he understood and he's a man. He's got his own plans, not just for my fight, but for the UFC and onwards as well that you guys will find out later on."
According to Adesanya, it was a cool experience to sit alongside the man who made the sport what it is today — and even cooler to learn and take inspiration from him.
"It was cool to sit alongside him in a board meeting and just watch him passionately dominate all these fucking bigwigs, all these suits. So I like a guy like that who is in the position he's in but he's not a suit, he's not a conformist," said Adesanya.
"He's a guy that's cut from a different cloth as well. So it's cool to watch and it's inspiring, because you've seen him all these years. And people forget, without him, none of this shit would happen, you know? And he has made some mistakes in the past. He's even admitted it. He even admitted at the board meeting. He's made some mistakes. But, you have to learn from them. He could've sold out. He could've (been like) fuck it, I'm gonna cash in when IMG bought the UFC, but he loves this shit. So it's cool to like see him still going strong, still making money, still doing big things for the sport.
"So, sitting in that meeting like a fly on the wall, listening in, it inspired me and made me realize, like, fuck yeah, there's a whole lot of money to be made, there's a whole lot of history to be made. So yeah, I wanna make everything."
Be sure to check out the full interview, courtesy of Submission Radio, in the video below:
Comments
comments