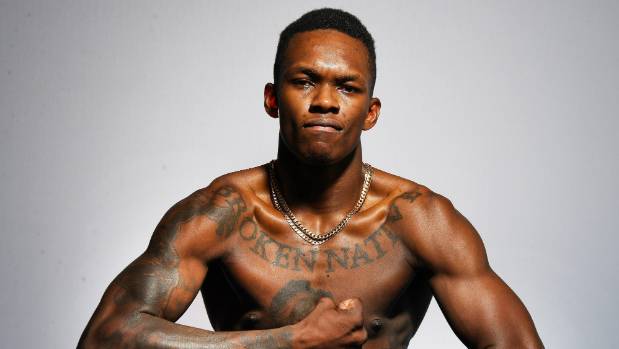 When Israel Adesanya walked out of the cage on Saturday night as the UFC interim middleweight champion, he probably expected to walk into praise and appreciation from fans and pundits.
He might have been less suspecting he'd walk into a barrage of tweets from UFC light heavyweight champion Jon Jones criticising his performance over five rounds. Jones' tweets, which have since been deleted, suggested Jones found Adesanya's striking ability to be overrated, particularly considering the close fight Gastelum gave him.
"My man had a toe to toe kick boxing match with a short stubby wrestler. There's only one Jon Jones ladies and gentlemen," Jones wrote. "You guys can you believe the hype if you want to. I've seen all I had to see."
On Saturday night, Adesanya refused to address Jones' comments, instead choosing to celebrate his own moment. Come Monday morning, however, that embargo has ended.
"He's a cunt," Adesanya said, speaking on MMAFighting's The MMA Hour. "First of all, there's two variables I never expected in this game. And that was to fight [Anderson] Silva and now to fight Jon Jones. So I have to adapt to that, and for me I like a challenge. So he's a cunt, and I say that because he's picking the time when I'm supposed to get the most shine because he's irrelevent. No one really cares about him. I'm everything he wishes he was. I'm everything he wished he was when he was being, 'Ah, I wanna thank God'. Mean while he's in the bathroom at whatever time [snorting cocaine] and then fucking hiding under a cage.
"Hiding under a cage to avoid USADA. I know some things, the streets is talking. Everyone knows what's up behind the scenes. I'm everything he wished he was. People don't have to like me, but it's hard not to like me. I just put on one of the best fights you've ever seen, and I'm a nice guy. I'm actually a nice guy.
"Put it this way, if you have to beat me, you gotta do it yesterday. Every single fight I'm getting better. There's only one reason he called me out, because I know he's a man who likes challegnes. I'm no easy fight, but he knows if he wants to get me, right now is the time. While I'm only a year and some change in this game. Imagine what I'm going to be like in two years. Imagine.
"He's trying to get this fight early so he has a better chance of beating me. I'm player one, and I have the controller. That fight will happen, but will happen on my terms."
–
Comments
comments