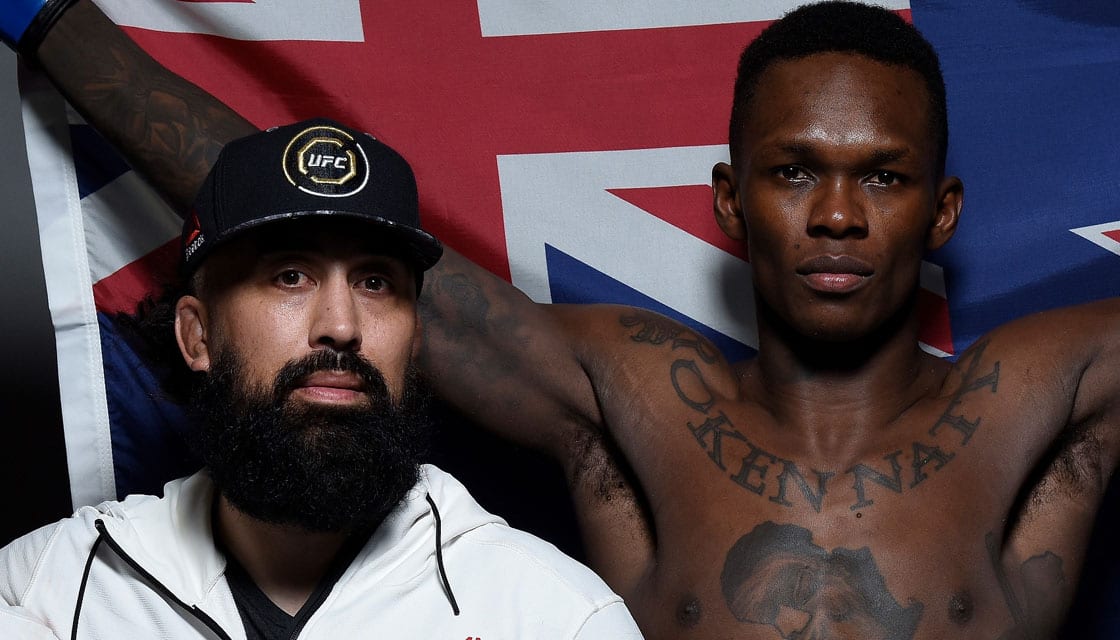 Israel Adesanya's coach Eugene Bareman has confirmed his middleweight champion won't compete again in 2020, and instead will look to return early next year.
According to Bareman, Adesanya wanted to meet the winner of Jared Cannonier vs. Robert Whittaker on December 12, but due to teammate Junior Fa already being booked and requiring their coaches time, Adesanya will put his plans on hold and instead look ahead.
"Although Israel wanted to fight in December, he does not want to fight without his coaching team so he's going to have to push his timetable out to fight in early next year," Bareman said, speaking to 1 NEWS.
"We're a team – if you have to move because another fighter is in the limelight, then Israel is more than happy to move aside so Junior can get his fight done. That's just how you operate as a team.
"Without hesitation, Israel is like, 'Yes, there's big money involved but there's big money involved for Junior as well. This is the biggest payday, it's the biggest fight of Junior's life'."
"Junior is someone who's helped Israel throughout his whole UFC career. He's been there, they've done rounds together.
"So without hesitation, Israel stepped aside."
Most interestingly, the timeline being changed appears to have subsequent consequences to Adesanya's plans — which in turn have potentially huge ramifications themselves.
"Cannonier was the option for this year but we've taken that option off the table," Bareman said. "Now we want to fight next year and our preferred fight next year is at [light heavyweight]."
While Bareman admitted there's no guarantee Adesanya could demand a title fight at a new weight class, he says a fight with new light heavyweight champion Jan Blachowicz is the primary tactic.
"If we have to push it to next year, then our preferred option, the fight that we are going to try and negotiate to the best of our ability is going to be at 205 [pounds] for the title," Bareman said.
Comments
comments