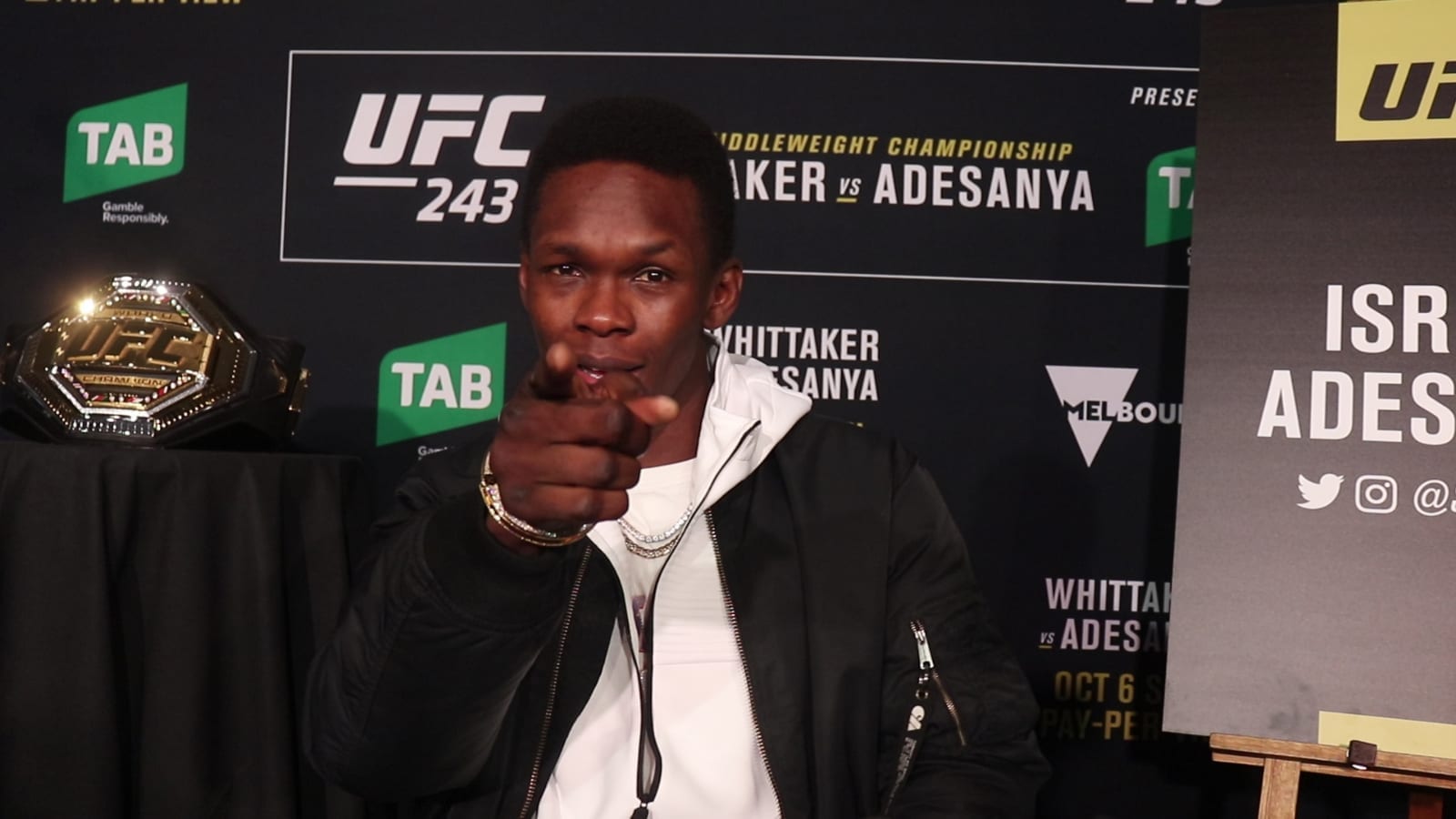 UFC middleweight champion Israel Adesanya says he's more than happy to compete on the upcoming 'Fight Island'.
UFC president Dana White has repeatedly touted the private island which will enable international athletes to compete while travel remains restricted during the coronavirus pandemic. In fact, he's already visualised how the bouts might go.
"I don't really care about crowds. You know, me, I like the idea of me fighting in an empty arena. I can hear and feel, like, the echoes of my strikes hitting the body," Adesanya said, speaking to James Lynch of The Score. "You can hear what I'm saying to the person as well. I can give you a little bit of a show as I whoop someone's ass. But yeah, Fight Island, that sounds good. I like the idea of Fight Island."
While nothing has been officially announced, Paulo Costa is set to be Adesanya's next contender, who says a June or July return would work well.
"Dana said at the press conference, that yeah, he's the next guy and he's going to be a guy that brings it, which is what I'm really looking for to," Adesanya said. "I don't care [when's good for him]. He was ready to come back after trying to fake a doctor's meeting or some shit. I don't know. … Ask him."
Adesanya and Costa have developed quite the rivalry over the past year, with the two having harsh words for the other on numerous occasions. While that in itself will draw eyeballs to the fight, Adesanya doesn't seem interested in playing up to promotion by saying things he doesn't believe
"Of course, I look at myself whooping his ass as I expect to, but realistically speaking, I don't see anything," he said. "This isn't what you're supposed to say to promote the fight but I actually don't really — there's nothing that I see that's going to be new that I haven't seen before. Nothing new. I've seen everything he's thrown at me. I've seen it in kickboxing fights over a hundred fucking fights. So yeah, I don't really think there's anything he's going to bring that I haven't seen already brought.
"Even as recent as yesterday has risen as, yes, day before yesterday — there's some new shit coming, man. Like I'm making some really big epiphanies in fighting. In fighting itself. So yeah, I've been shadowboxing in my living space behind me, and I've been looking at some videos been just, you have to be able to learn from different sources no matter who they are and what they are.
"I'm curious again. I'm curious about fighting again and not that I wasn't before. I did what I already did. What I did does my first leg in the UFC, my first run from contender to snatching the belt and defending it — now it's my next run and continually defending it.
"So it's kinda got me curious on expanding my repertoire in fighting, and I started looking at some of the really, really different sources and I'm impressed with what I'm seeing and I like what I'm discovering."
Comments
comments