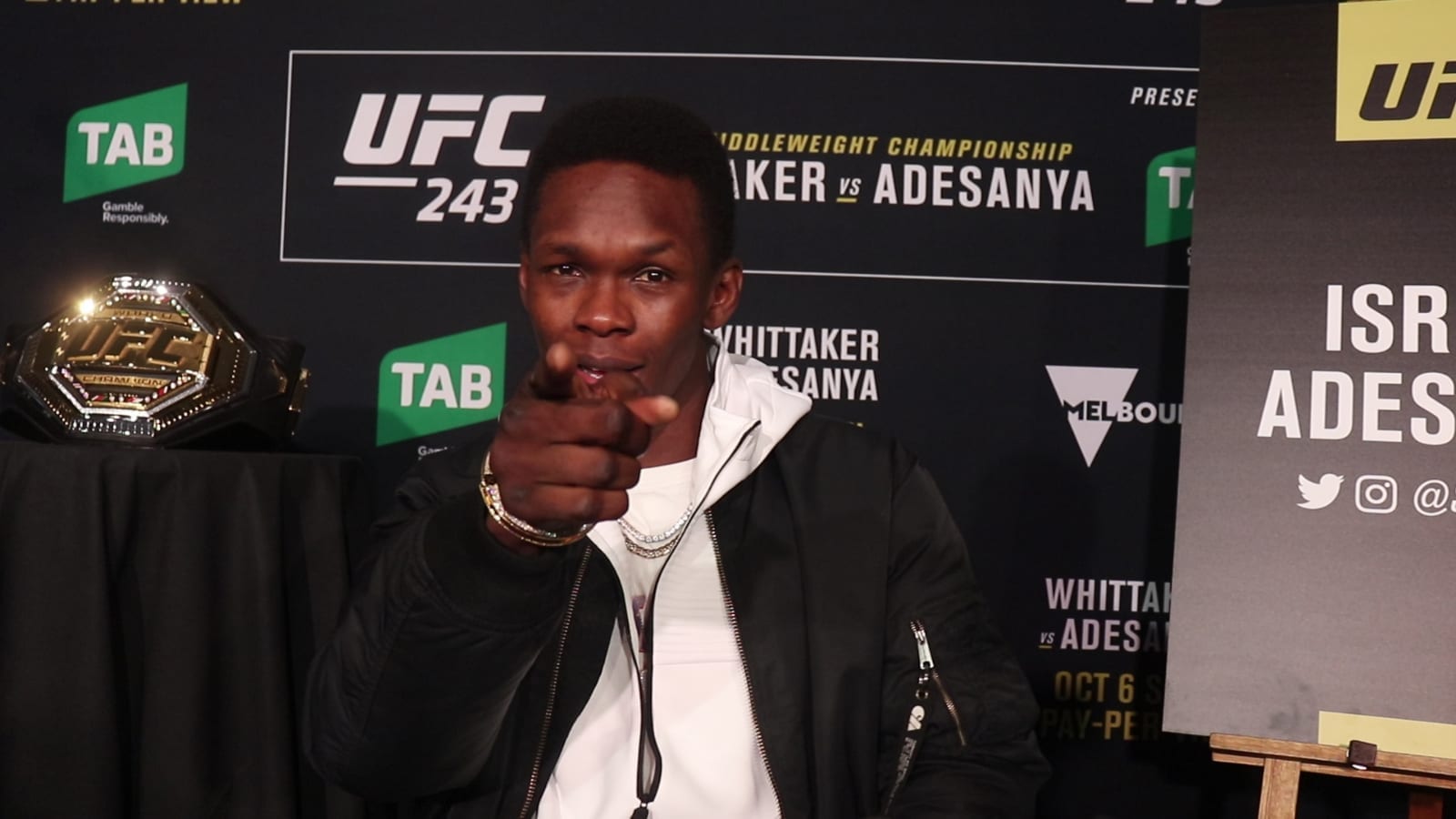 Israel Adesanya says he doesn't care if Jon Jones has moved up to heavyweight by the time he's resolved things at middleweight — he'll still fight him.
The middleweight champion and light heavyweight champion have been linked with each other for a number of months after increasingly personal attacks made at each other through the media. Recently, Jones said he believed the contest would never happen, and he'd be a heavyweight by the time Adesanya moved away from 185-pounds.
Adesanya says that's fine. He'll just plough straight past 205-pounds to go to heavyweight.
"What did he say? I saw something on Instagram that by the time he goes to heavyweight the fight will be – who gives a fuck about weight?" Adesanya said, speaking to Submission Radio. "I've never given a fuck about weight. Since when? It's never been an issue for me. I've been a heavyweight in boxing, in kickboxing. I'll do it in again in MMA. So, it's never been an issue for me. He can try and run to heavyweight, but I'll chase him down. I'll hunt him down if I have to."
First, however, Adesanya maintains he needs to dominate his own division. The newly crowned champion defeated Robert Whittaker to win the world title last year, and meets Yoel Romero in March.
Despite that, Jones remains very much an option, regardless of what happens between now and then. Even if Jones loses to next week's challenger Dominick Reyes.
"Yeah. Let him go to heavyweight. Right now, I'm working at middleweight," Adesanya said. "If he wants to come, he can skip the line if he comes down to middleweight. I've said that already. But I'm sure he can't do that because his frame won't let him. So, let me do my work, shut the fuck up and I'll come see you when it's time.
"If [Dominick Reyes] wins, good on Dom, happy for him. And I think he's got a big problem on his hands with Dominick Reyes as well. But if Dom wins, doesn't matter, I'm still coming for that ass."
Comments
comments