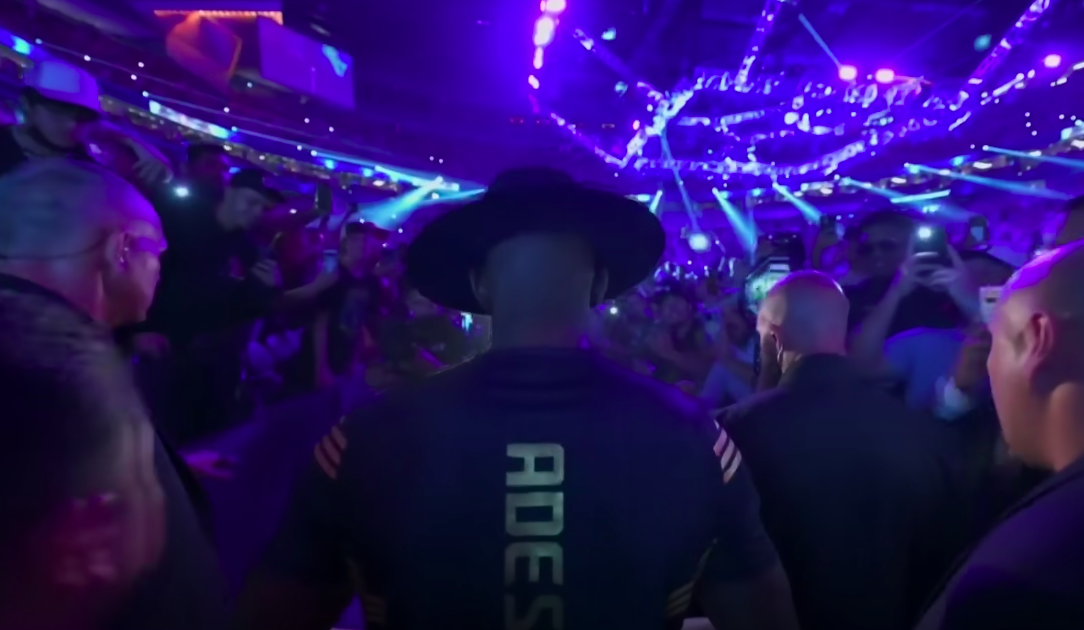 Say what you will about Israel Adesanya but he certainly has a penchant for the dramatic.
In the latest of what is now becoming a series of creative cage-walks, the UFC middleweight champion paid tribute to pro wrestling legend The Undertaker ahead of his UFC 276 title defence against Jared Cannonier, adopting the Dead Man's trademark hat, urn and music — much to the delight of the now-retired WWE star.
The long walk many opponents know and fear … congrats @stylebender! #UFC276 https://t.co/AuvdbqoB6d

— Undertaker (@undertaker) July 3, 2022
Speaking after his five-round decision win which topped the card inside the T-Mobile Arena in Las Vegas, Adesanya said that the idea was designed as a tribute to the wrestling Hall of Famer.
"It just works, the theme for me. I'm an artist. It just works," Adesanya told the media, including TheMacLife, post-fight.
"Wednesday night is when we wrestle. Towards the end of the rounds, 12 rounds, towards the end, the last three or four rounds, I'll chock on my playlist from YouTube, WWE Attitude from the Attitude Era. I have like 20 different tracks from superstars I admire and that would get me in that zone, and the Undertaker's theme was one of them.
"So as I was sitting down feeling it on Tuesday, it just made sense, and also big shout-out to the UFC production team because they were really accommodating and helpful to make it a show. This is the UFC. You want to give them a show. I said all week this feels like WrestleMania. Who's undefeated at WrestleMania? The Undertaker, and I've been feeling dark all week."
What made the entrance even more interesting was the fact that WWE chief Vince McMahon and his son-in-law Triple H were both in attendance at the event — and Adesanya said that he hopes they enjoyed what they saw.
"It wasn't a thing I planned," he explained. "Like I said, the universe just provides and it's a weird synergy, a weird crossover, but I like it because I grew up on that s*it. I hoped they enjoyed the show. I had an off night but still 5-0. It's crazy, isn't it?"
Comments
comments