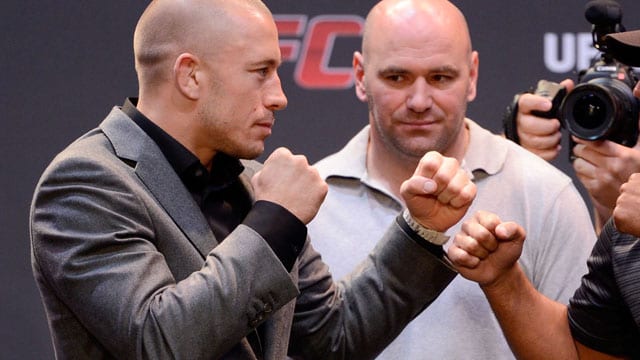 In just under two weeks, former welterweight champion and undeniable future Hall of Famer Georges St-Pierre will step back in the UFC Octagon. It'll be his first time doing so in four years, and will mark the return of one of the best fighters to have ever lived. So why doesn't it feel bigger?
For whatever reason, St-Pierre's comeback doesn't seem to have struck a chord with the fanbase as most believed it would. During his reign at the top from 2007-2013, the Canadian was the biggest draw in the company, with the majority of his pay-per-views outselling his colleagues handily, even earning him the label 'king of pay-per-view'.
And yet.
As UFC 217 approaches, bringing with it three title fights including St-Pierre vs. Michael Bisping, the anticipation doesn't seem to be there. There are plenty of tickets still available in Madison Square Garden, enough to bring comment from UFC commentator Joe Rogan, who over the weekend revealed on his podcast that he'd heard sales weren't going well.
"Bisping versus GSP, now I'm hearing that's not selling well," Rogan said. "Like at Madison Square Garden. That's unfortunate."
Joe Rogan commented yesterday that he heard #UFC217 wasn't selling well. Here's how many tickets still remain… pic.twitter.com/S5MTs4cgz7

— Damon Martin (@DamonMartin) October 22, 2017
The truth is a lot happens in four years. As St-Pierre took a hiatus at the end of 2013, two names in the shape of Ronda Rousey and Conor McGregor walked into the gap he'd left behind and carved their own space.
With Rousey and McGregor's stardom came a whole new fanbase, a whole new scale of success and a new feel to the sport. There are new owners of the UFC, there are new divisions, there are new names, faces and styles. Even in Canada, where St-Pierre was considered a folk hero of mixed martial arts, the UFC's presence is notably smaller.
The truth is: St-Pierre's classic UFC had a much different feel to the new money of today's.
"Here's the thing though, if you really stop and think about it, that was four years ago the last time he fought Johny Hendricks," Rogan said. "The people that are into the UFC now, they're post Ronda Rousey and post Conor McGregor, like the causal fans.
"The hardcore fans like you and I, we're going to watch that fight for sure. Okay, I'm going to see what Bisping looks like fighting a guy like Georges St-Pierre, who's smaller than him, a guy who's taken four years off. Bisping's got this opportunity to make a (expletive) load of money and then how's Georges going to look? Haven't seen him in four years."
Which brings us to the success of UFC 217. The UFC would like (if not need) the card to do well. 2017 has been one of the companies poorest years in recent memory, and with a $4 billion price tag to make up, it's not come an the best time. With the exception of UFC 214 (Jon Jones vs. Daniel Cormier II), no card has performed well at the box office. The most recent cards UFC 216/215 have reportedly performed very poorly, with only around 100,000 pay-per-view buys for each event.
If the UFC brings back St-Pierre, puts him in a middleweight title fight to the scorn of all affected, and his pay-per-view numbers (along with two other fantastic title bouts) don't perform well, what does that say about the state of the company?
Comments
comments